It's easy to think that rodeos are all about those terrifying, bone-shaking seconds in the arena but there's a huge amount of preparation that goes into becoming a bull and bronc rider, and there are many other tests of skill on display at rodeos too. Not all of which can be learned ranching. In this way, rodeos actually support many community businesses that are a part of life on the reservations.
Schools like Three Mile Creek Rodeo School is such a business but it's also a huge part of the community and a rite of passage for many of the youth in the area. The school was founded by Dale and Mona Vocu after Dale stopped riding bulls.
Dale Vocu: "I rode Bulls until 1980. Rodeo's always been in my family. A lot of boys here around here want to be bull riders so that kind of was a reason why I started raising bucking bulls. [I also gave] them somewhere to practice because there wasn't no schools. As time went on the boys got better, the bulls got better and before I knew it I was doing bull ridings and rodeos."
"I never imagined when I started we would be going to Las Vegas to the Indian Finals (INFR) with Bulls. But it's something that grew and something I'm proud of. At our rodeo school we'll have kids come along that's never rode anything and then turns out that they're good at it and they can make a living."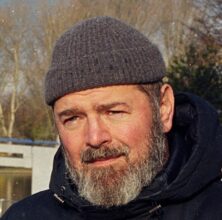 Doug Hancock is an award-winning Dutch film director, cinematographer and photographer, best known for his observed, intimate storytelling. A respected name within the Amsterdam commercial industry, his first documentary, Robert Mims the Texan Bull Rider, was celebrated at several international film festivals and was shortlisted for best short documentary at Big Sky Film Festival in 2018. His documentary Riders of the Buffalo Nations is in pre-production with production planned for 2023/24.