It is almost two weeks since the U.S. Midterm Elections took place. As more and more races that were too close to call on or right after Election Day have finally been called, the new political landscape is slowly becoming clearer. Even though pundits on Election Night were sceptical at first, we did see a blue wave in the House of Representatives. The Democratic Party has already secured 231 seats, electing its most diverse class of members and improving their ability to check President Trump's power. The Republican Party has expanded their majority in the Senate and with it the ability to continue building a conservative judiciary. However, as Kyrsten Sinema became the first Democrat to win an Arizona Senate seat in 30 years, the Republicans got the message that even reliable red seats are now in play.
On November 6th, Americans not only voted for a new Congress in Washington. The outcome of state and local elections often have a greater impact on people's daily lives. As reading up on your national, state and local representatives can already be an afternoon's work, voters in 37 states voted on a total of 157 ballot measures on Election Day. The measures dealt with many aspects of people's daily lives, such as Medicaid expansion, abortion rights and voting rights.
Down the ballot, you will often find several ballot questions. In the Netherlands we have different types of referenda. Some are advisory, others are binding. This also goes for American ballot questions. Public officials can include an advisory question to ask their constitutions' opinion on specific legislation, while ballot measures are a way for the public to directly pass or repeal a specific law – without it having to pass each chamber or requiring a signature from the governor.
The ballot measure that perhaps received most national media coverage is Florida's Amendment 4, which would automatically restore voting rights for more 1.4 million ex-felons (about 9.2 percent of the voting-age population in Florida). The measure passed with an overwhelming majority of 65% of the vote. Even though some of the restrictions were put in place by Gov. Rick Scott (R), Amendment 4 received bipartisan endorsements. Many high-profile Americans campaigned in Florida to get the measure passed.
Other ballot measures will also have a substantial impact on people's lives. The minimum wage of 900,000 workers will be increased in Arkansas and Missouri. The expansion of Medicaid – a program offering free or low-cost health coverage to the elderly, low-income people, families and children, pregnant women, and people with disabilities – was passed in Idaho, Nebraska, and Utah. This means that 300,000 more low-income American will receive health coverage. And Washington voted to tighten its laws on gun control, raising the minimum age to purchase a firearm to 21 years.
In 2016, transgender rights became national news when North Carolina Governor Pat McCrory (R) signed a law restricting cities from allowing transgender individuals to use public bathrooms for the sex they identify as. The people of Massachusetts decided otherwise on November 6th. They passed the nation's first statewide vote on anti-discrimination protections for transgender people, prohibiting gender-based discrimination in public places.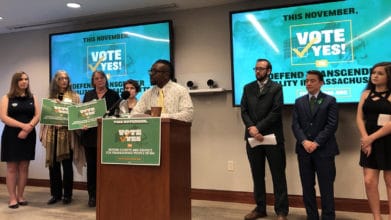 The last ballot measure I want to highlight deals with abortion rights. With the nomination of Judge Brett Kavanaugh to the U.S. Supreme Court, many women around the country fear that their right to choose – protected by Roe v. Wade – might be taken from them if the Supreme Court decides to overrule. In that scenario, abortion rights will again be decided at the state level. Until then, the restrictions passed in Alabama and West Virginia two weeks ago that cease to recognize and protect a woman's right to have an abortion, remain symbolic.
This is the sixth and final blog in our blog series about the Midterm Elections 2018. Contributions were made by Iris Bos, boardmember of Stem op een Vrouw, Kathelijne Niessen from Campagnebureau BKB and Casper Thomas from Het Financieele Dagblad and De Groene Amsterdammer.