The John Adams institute is delighted to present one of the brightest minds in American political thought today: the refreshingly outspoken German-American political scientist Yascha Mounk. He will join us on April 10th to discuss his new, long-awaited book The Great Experiment: Why Diverse Democracies Fall Apart And How They Can Endure.
In his new book, Yascha Mounk explores the complex relationship between liberal democracy and ethnic diversity. Most democracies are either homogenous in their demographic makeup or suffer from racial and ethnic tensions. In his captivating and intelligent style, Mounk describes these problems and offers his solutions for the future. His strong belief in the value of diversity in a liberal democracy is both well-substantiated and inspiring.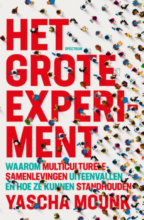 Mounk has appeared in several international media in recent years, from The Atlantic to the Süddeutscher Zeitung and the Dutch newspaper Trouw. He distinguishes himself from other academics with his activism, political involvement, and general outspokenness. The program will be moderated by Casper Thomas, Dutch journalist and US correspondent for Het Financieele Dagblad and De Groene Amsterdammer. Join us for an event that will prove both challenging and fascinating for anyone interested in the challenges now facing liberal democracy.
Click here to read the introduction on Yascha Mounk by moderator Casper Thomas.