The image of JFK's shooting is like a hall of mirrors. You can't trust anything you see through the layers of mythmaking about the man, his presidency, his assassination. True, much of his legacy has been revised by historians (on Cuba, Vietnam, civil rights), but one piece of it remains largely undisputed. From the election debates with Nixon to his violent death, moving images came to define what his legacy means.
I confess the more you read about him, the less you understand: the man is so mediated frame-by-frame-by-frame. We now know that Kennedy's youthful charm and Jackie's dazzling beauty as televised did not show us the constant pain he was in physically or the predatory behavior the president exercised on a string of young women (to satisfy his sexual appetite or numb the pain?). To grasp the zeitgeist – or JFK's psychology for that matter – we might turn to other moving images. The character of Don Draper in the TV drama series Mad Men, for example, brilliantly feels the pulse of the era: the over-the-top sexism, racism, homophobia, and anti-Semitism mixed in with the excessive drinking and smoking.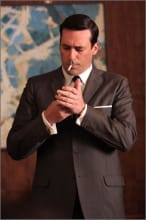 In an episode vacillating appropriately between history and fiction, I have had my own personal TV moment with JFK. Etched in my mind is one afternoon when in 1967 a man came to install the family's first black-and-white TV in our Amsterdam apartment. We were latecomers to the world of consumption. When the man turned on the TV to align and fine-tune the antenna on top of the set with the aerial mast on the roof, the moving images that sprang to life – in black-and-white, flickering, and grainy – were the Abraham Zapruder shots of when Jackie pulled in special agent Clint Hill and the motorcade sped away. I know every detail of the half-lit bedroom I walked into that afternoon to see the new gadget: the light, the angle, the static noise. As an historian, I also know people create false memories about the past. Come to think of it: he was not even my president. Yet, that's what I remember. And so it goes: my first TV moment belongs to the haze of mythmaking that is the JFK assassination.
Ruth Oldenziel is professor at Eindhoven University of Technology. She has been a research fellow at Hagley Museum and Library, DE; the Smithsonian Institution, Washington, D.C., the Lemelson Center in Washington, D.C. and Georgetown University. Since July 2012 she is also the chair of the board of the John Adams Institute.