After leaving the Netherlands ten years ago my family and I moved to Raleigh, North Carolina where we still rent an old red-brick parsonage adjoining a Moravian church. Directly across our street is an elementary school and around the corner a middle school; within a couple of blocks you've got two more churches, a public pool and a few day-care centers. Weekends come and the school playground across the road turns into a neighborhood park; kids shoot hoop and dogs get walked and if you want to talk to someone you can talk. What a big slice of life just out the front door! But no more.
For awhile it's been like I don't know what it is we're nowhere near the end of.
The churches were one of the first acts around town to get wise to the situation. After they shut down on account of the coronavirus everything else soon followed and now the neighborhood and the city is oh so quiet.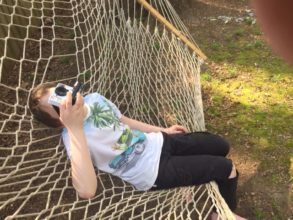 But boy are we fortunate. My wife can work from her home office and the boys are dialed into their school with something called 'remote learning.' They don't seem to miss seeing their friends and I know they don't miss their teachers. When I first thought about all of us being at home together day after day for god knows how long I think to myself, 'Uh-oh.' But some survival instinct seems to have kicked in for each of us. I make breakfast for the boys each morning. Never did that before. Christa bakes bread after that. We watch bad movies together at night. We're taking polaroid pictures of apples and the dog. Hang 'em on the fridge. The din from the nearby freeway is gone. No planes overhead. The birds seem louder. All in all we be blessed, even though the anxiety visitations come upon me from time to time — that bad worry about everyone I love.
Horses don't like being alone either. It's the herd thing. I was out riding the other day with a friend who has three horses stabled at her farm about an hour from our place. My friend rode the gelding and I took one of her mares while the other mare, Daisy, remained behind at the barn.
We steered Gigi and Elijah along the shoulder of a two-lane asphalt road. Even in these rural areas, everyone is laying low so only a few vehicles came up on us. As they slowly eased by each driver would wave and we would wave back.
"My dad loved his country because he could criticize it. It meant he cared".
Horses spook easily when they're away from what they're used to – the scent of other critters, funny noises, those kind of things can get them edgy. If they sense a danger they might dash for home – with you or without you, makes no difference to them. But Gigi and Elijah were easy that day. The ride smooth and peaceful and as the morning rolled along for some reason I got to thinking about my father.
I got to thinking what my old man would make of the mess America is now. The Trump Virus and all. My dad had flown hundreds of missions in the Air Force in two wars. But he was no patriot. Didn't own the Vietnam Vet hat. Would have scoffed if someone 'thanked him for his service'. He was just a good pilot and liked the steady pay for being one. He loved his country because he could criticize it. It meant he cared. When he was alive he'd make his comments on the whole national circus without saying a word. He'd couch in front of the evening news and I'd be close to the old man, studying what he'd shake his head so incredulously at, when he'd take a deeper pull from his cigarette. I was working all that stuff in my head as we turned the horses around to head back to the farm.
"Gigi and Elijah picked up their gait, ready to canter back to their farm."
It's called 'barn sour' – the herd instinct. Gigi and Elijah picked up their gait right away, ready to trot, ready to canter back the long haul to their farm. To Daisy. We worked the reins and held the horses back and had we not they would have had their way with us and galloped home. As we rode along the mare and gelding heard Daisy braying from the barn and brayed back. And we weren't even that close.
We rode the mare and gelding into my friend's pasture. We unsaddled the horses and slipped the bridles off and carried it all away as the horses ran around. When I got to Daisy in her stall she was loathing it all like a tiger in a cage. I cornered her and slipped a harness and rope on her. Walked her toward the pasture. The closer we got the more I had to hold the mare back. The closer we got it felt she'd pull my arm off just to get into the pasture with her pals.

Michael Martin is the author of 'Extended Remark: Poems from a Moravian Parking Lot' (Portals Press). For decades his poetry has been published widely in literary magazines, including Poetry Ireland, the Moth, American Journal of Poetry, RHINO Poetry, New Orleans Review, Carolina Quarterly & Berkeley Poetry Review.
He co-founded the literary magazine Hogtown Creek Review and for a decade lived in the Netherlands, where he was a feature writer and contributing editor with Amsterdam Weekly. In 2010 he edited the anthology 'Rules of the Game: The Best Sports Writing' from Harper's Magazine. He's been a consulting editor for Lewis Lapham, Dutch film director Louis van Gasteren, poet Jack Butler and author Jim Bouton. He lives in North Carolina with his wife and boys.