For the first instalment of this blog about the Black Liberators, I interviewed Brian Elstak. Not only did he contribute to the Black Liberators exhibition at the NIOD (temporarily closed), he's also the illustrator of the graphic novel Franklin – A Dutch Liberation Story. It tells the fictional story of the African American soldier Franklin, stationed in the Netherlands during World War II. He meets a Dutch girl, they fall in love and conceive a child. The novel also tells the stories of their child and grandchild, as they search for answers about their heritage.
Brian Elstak, who is himself black, describes his own style as 'sketchy and raw', which makes it particularly well-suited to a frayed and raw story such as Franklin. Asked why he wanted to participate in this project, he quotes the famous singer Nina Simone: "A true artist's duty, as far as I'm concerned, is to reflect the times." Through this project he addresses the very real racism that still plagues the Netherlands. Much of his art deals with serious, heavy topics, but he tries to offset the heaviness with other projects: he has written several children's books as well.
When I asked Brian if he already knew the history of the African-American soldiers in the American army in World War II, he said: "You know, but you don't know." There are hints in the known histories, here and there. But it is not widely known that there were black servicemen, nor that the US Army was segregated till long after the war. Movies don't usually show it either, with a few exceptions. For instance, the movie Red Tails (2012) is about the Tuskegee airmen, a group of African-American pilots during World War II. The movie's producer, George Lucas, had to fight for years before he finally got the movie made. Yes, thát George Lucas, director of Star Wars and Indiana Jones! Another movie that shaped Brian's view of African American soldiers before he started working on the graphic novel is Miracle at St. Anna, directed by Spike Lee.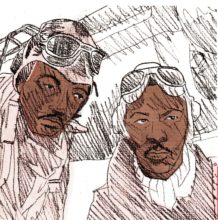 It is set in Italy in 1944, and shows a group of African-American soldiers in the thick of battle. Brian explains that he was inspired by this movie while drawing the African-American soldiers in Franklin as carrying weapons, only to be told later that they weren't allowed to carry weapons at all in the Netherlands – nor in any other part of Western Europe, in fact. The African-American soldiers were assigned to support roles, delivering equipment and provisions to the front lines and serving as mechanics. The only exceptions were the African-American soldiers assigned to guard German prisoners of war. They just didn't receive any ammunition to go with their weapons. As Brian put it: "They were allowed to die for their country, but they weren't allowed to defend themselves."
This was part of the challenge to create a historically accurate graphic novel. A lot of research was required, and Brian had to comb through a mountain of photographic material. A lot of it came from the BBC, where a large number of African-American soldiers were stationed before they went to the mainland. The stories from that time are similar to those from the Netherlands. They all provide the ingredients that Brian used to draw Franklin.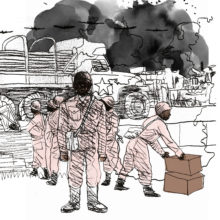 I had gotten the impression after reading Franklin that the period of liberation might have been one of the most racism-free times in Dutch history. Brian explained that the Dutch population was simply glad to be liberated, and anyone who brought freedom, food and commodities was welcome. But just like when a famous person dies, after a short time we forget and life goes on. The stories from this time are forgotten if we don't talk to those who lived through it. The oral history can only be remembered if it is talked about – and if it is forgotten, you can only see one side of history. A Golden Age, but Golden for whom?
Franklin shows how everything is connected, through the characters of Frances (Franklin's granddaughter) and her father. It is not just a World War II story, people today still grapple with racism. Brian hopes that Franklin will become pop culture, so we may learn to listen to one another's stories.
Follow Brian Elstak on Instagram and his website. You can buy your own copy of 'Franklin: A Dutch Liberation Story' here (use discount code BOEKKORTINGFRANKLIN – valid from April 1-May 31. In Dutch). The book has been added to the list of 'The Best Dutch Book Designs 2019'. All images © Brian Elstak.