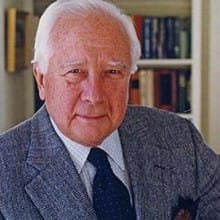 To celebrate the 2004-2005 lecture season, the John Adams Institute paid tribute to the American patriot, John Adams, who provided both the original inspiration and namesake to the institute. 2005 marks the 225th anniversary of his arrival in Amsterdam and for the inaugural lecture we welcomed his biographer, David McCullough.
Credited by The New York Review of Books as 'by far the best biography of Adams ever written,' John Adams is as engaging a read as it is historically enlightening. In McCullough's acute portrayal, not only Adams, but Jefferson, Franklin, Hamilton, and Washington emerge as fully-formed.
John Adams, founding father and second president of the United States, spent time in Holland as a diplomat during the American War for Independence. While in Amsterdam, he struggled not only for recognition as a statesman but also to acquire a loan for his fledgling nation. Though at first his efforts met with great enthusiasm, they had little real success. As he would later tell his wife Abigail, he was so frustrated that he 'didn't believe that any other man in the world would have had the patience and perseverance to do and to suffer what was absolutely necessary,' and he stubbornly refused to quit. In the end, after years of waiting and nearly losing his life to illness, his bid for recognition paid off. Following news of a pivotal battle won by Washington, the balance turned towards Adams and his cause. The Dutch, recognizing Americans as future valuable trade partners, accepted America as an independent nation. Adams then set up the first American embassy in the world, raising the flag at the United States House. Adams considered the work he had done in Holland some of the best of his career.
University of Amsterdam historian Herman Beliën talked with McCullough about his Adams research and his opinions on Dutch-American ties both in Adams' time.
David McCullough is one of the foremost biographers in America. John Adams was a national bestseller and TIME magazine's best nonfiction book of the year in the year of its publication, 2001.
_________________________________________________________