From the Guggenheim Collection: International Abstraction 1949-1960, as the title suggests, showcases a selection of works from the collection of the Solomon R. Guggenheim Museum. For the very first time, works from the core collection of mid-twentieth century art from this world-renowned institution are on view in the Netherlands.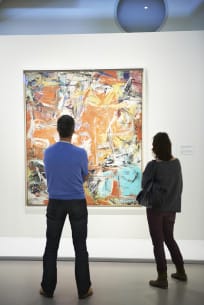 The exhibition focuses on the years from 1949 to 1960, a dynamic period in which modern art and post-World War II societies were undergoing radical changes. New York joined Paris as a center of world culture: in both cities, artists were fervently in search of new, expressive and performative painting. From the Guggenheim Collection also celebrates a vital time in the history of the Guggenheim Museum.
The collaboration between the Cobra Museum of Modern Art and the Solomon R. Guggenheim Museum began in 2012, when the Guggenheim's Art of Another Kind, curated by Tracey Bashkoff and Megan Fontanella, was presented in New York. The Cobra artists and their ideas had a prominent role in that exhibition, and it now serves as a model for the presentation in Amstelveen.
The exhibition will end on August 31, so be sure to visit before the collection is gone! Read more here.