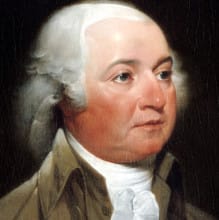 At the John Adams Institute, we've designated 2005 as "John Adams Year", to mark the 225th anniversary of our honorable namesake's arrival as America's first envoy to the Netherlands.
20 september 2004 Unveiling of the memorial plaque on the façade of Keizersgracht 529, the canal side house where John Adams lived in 1781-1782. Official unveiling by Amsterdam Mayor Job Cohen.
21 September 2004 First John Adams Lecture by David McCullough A peak event in the program was the first John Adams Lecture, given by writer David McCullough, John Adams biographer, in de Aula (Auditorium) of the University of Amsterdam. The John Adams Year 1e UvA LECTURE SERIES Central to this celebration is a two part lecture series, joinly organized with the American Studies Department of the Universiteit van Amsterdam (UvA). Lectures will feature some of America's foremost scholars on the man and this era, complimented by the UvA's American studies professors. This special co-operation between JAI and UvA gives students and out wider public a unique opportunity to gain experts insight into this formative period in American history.
February – June 2005 John Adams and the Early Republic
7 February 2005 Rob Kroes (University of Amsterdam) John Adams and the Dutch Republic -14 February 2005 Herman Beliën (University of Amsterdam) New images of the American Revolution
21 February 2005 Pauline Maier (Massachusetts Institute of Technology)American Scripture: Making the Declaration of Independence -7 March 2005 Herman Beliën (University of Amsterdam) John Adams and New England
21 March 2005 Ruud Janssens (University of Amsterdam) John Adams and European Diplomacy
4 April 2005 Eduard van de Bilt (University of Amsterdam) John Adams's Political Thought
13 April 2005 In the presence of Her Majesty the Queen, the John Adams Institute proudly presents: An American Evening at the Concertgebouw Kleine zaal – Concertgebouwplein 2-6 Amsterdam In honor of the 225th anniversary of John Adams' arrival in this country, Dutch and American musicians will perform works by Copland, Dvorak and the p r e m i e r e of: John Adams in Amsterdam: A song for Abigail a work by American composer Gary Fagin, specially commissioned by the John Adams Institute for this event. The composition – a dramatic song cycle for baritone and string quartet – is set during the American Revolution, when Adams lived in Amsterdam and served as the young nation's first envoy to Holland. The libretto, by Terry Quinn, is based on letters home to his wife Abigail. The first copy of our book John Adams in Holland 1780-2005 will be presented to Her Majesty the Queen, on this occasion. Performances by the Matangi String quartet, Lars Wouters van den Oudenweijer (clarinet), Hans Eijsackers (piano) and Richard Lalli (baritone).
18 April 2005 Lecture of Richard B. Bernstein John Adams and the Intellectual War for American Independence Aula of Universiteit van Amsterdam Booklaunch John Adams in Holland 1780 2005 published by the John Adams Institute.
Auteurs -Jan Willem Schulte-Nordholt -Hella Haasse -Willebrord Nieuwenhuis
2 May 2005 Mrs. M. Wilke (Rijksuniversiteit Groningen) "Remember the Ladies, and be more generous and favourable to them than your ancestors" Mrs. President Abigail Adams (1744-1818) -23 May 2005 Eduard van de Bilt (University of Amsterdam) Radicalism and conservation in the American Revolution An introduction to the work of Gordon Wood.
4 July – 25 august 2005 'The American diplomat John Adams in Amsterdam, 1780-1782' mini exhibition at the Amsterdams Historisch Museum. Official opening by the Mayor of Amsterdam, as well as Gregg Lint and Margaret Hogan of the Massachusetts Historical Society. Herman Beliën of the Universiteit van Amsterdam was the moderator in a discussion with our visiting experts. The exhibition gives an impression of the political situation in the Netherlands at the end of the 18th century, and features original passages written by Adams during his time in Holland. Adams adds his own deeply personal impressions and observations of the Dutch people with whom he had contact.
The John Adams Year 2e UvA LECTURE SERIES September – December 2005 The 19th Century Adamses: Actors and Observators
19 September 2005 Eduard van de Bilt, J. Q. Adams and the Jacksonians
3 October 2005 Ruud Janssens, The Foreign Policy of John Quincy Adams
17 October 2005 Herman Beliën, Charles Adams and the Civil War
31 October 2005 Eduard van de Bilt, Henry Adams
14 November 2005 Eduard van de Bilt,Henry Adams, Democracy
28 November 2005 Herman Beliën, The Historian Henry Adams
12 December 2005 Rob Kroes, Henry Adams and the Puritan Heritage