There is one person who has done more than anyone else in the Netherlands to bring the stories of the Black Liberators into the light of day: Dutch oral historian Mieke Kirkels. She is the author of From Farmland to Soldiers Cemetery, From Alabama to Margraten and Children of Black Liberators. I interviewed her to hear how she discovered the suppressed history of the participation of African American soldiers during World War II.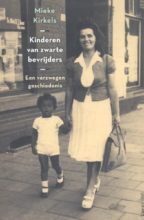 Kirkels decided to interview Dutch farmers in the Margraten area for the National Project 'Heritage of World War II: Eyewitness Accounts', which started in 2008, to hear what the farmers thought of their farmland becoming a military cemetery. Kirkels' story is filled with remarkable coincidences, such as this one: "In one of the first interviews an older woman told me: 'I felt so sorry for those poor black guys.' I had no idea what she was talking about: to me, the American liberators were white guys with their shiny boots, helmet and a big smile. But she was talking about black guys having to bury all those bodies! Many of the farmers I interviewed confirmed it."
The revelation that African American soldiers were stationed in the Netherlands prompted Kirkels to try to incorporate them into her project about the cemetery at Margraten. However, by 2009 she had found so little information that she almost decided to continue without their stories. Then, out of the blue, she got an email from the United States. "It sounds like a coincidence, but to me it felt like fate: An American woman wrote to say she was so glad the website about the cemetery at Margraten was in English, since her neighbor had been a US Army captain in World War II."
This neighbor, Captain Solms, turned out to have been in charge of a unit of African American soldiers who dug graves at Margraten. But he was white. Was he by any chance still in touch with any of those African American soldiers? The veterans' organizations were whites-only back then. But Solms had met one of them two years before, and still had his phone number! His name was dr. Jefferson Wiggins from Connecticut, born in Alabama. Kirkels interviewed both dr. Wiggins and Captain Solms and in September 2009 they both came to Margraten to celebrate the 65th anniversary of the liberation of the Dutch province of Limburg.
Dr. Wiggins asked Kirkels to help him write his memoirs (From Alabama to Margraten, published in 2014) of his three years in the segregated US army during World War II. She was the only person he had met in the Netherlands who knew of the segregation. That ignorance was not limited to the Netherlands. Kirkels: "American journalists, accredited by the US Army to come to Europe, were forbidden to write about the African American soldiers."
Children of Black Liberators
Another startling coincidence led to her next project, the book Children of Black Liberators (2017). "People could order the book From Alabama to Margraten and pick it up themselves. Suddenly there is this man of color standing in front of me. He took my hand and said: 'I am so happy with your book, I have been searching for years in archives for black soldiers stationed here, because my father was one.' His name was Huub Schepers. Eventually, about 25 children of African American soldiers reached out and 12 of them were willing to be interviewed. Through this project these 'children of black liberators' became like the family that some of them never had."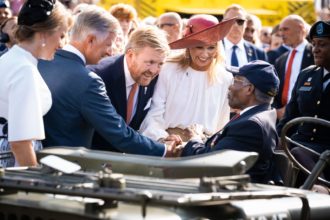 Kirkels also interviewed pastor Matthew Southall Brown sr, a black veteran, by phone in 2016. Three years later in May 2019, he emailed her that he wanted to visit the cemetery at Margraten. The American embassy then invited him to represent the U.S. as a guest of honor at the official start of 75 years Freedom in the Netherlands. Pastor Brown was one of 7 veterans present at the commemoration – and the first guest to shake the king's hand. "For me, it has now come full circle."
Race code 2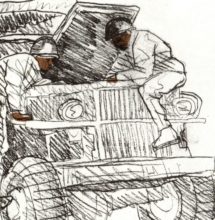 Kirkels is now researching the African American soldiers who are buried at Margraten. Her colleague, researcher Sebastiaan Vonk, made a final list of 172 African Americans buried there. They were able to identiy them om the basis of the race code on the burial certificates: race code 2 were African Americans. Vonk is now leading a project in the United States to interview the relatives of those 172 soldiers, with the aim of telling the story of a group of soldiers who have been forgotten until now. Kirkels: "There are a couple of websites about American cemeteries, but they are just about white American soldiers. We want to give the African American soldiers of Margraten a face and tell their stories."
For more stories about African American soldiers in the Netherlands and Mieke Kirkels' research, visit https://blackliberators.nl. This is the final blog in our series on the Black Liberators. Click here to read the whole series.
Pictures © Martijn Beekman/Jean Pierre Geussens, Artwork © Brian Elstak