The war between Russia and Ukraine starkly illustrates Europe's vulnerability in an era of resurgent big-power rivalry. President Emmanuel Macron of France has taken the lead in Europe and has
warned that the European Union could find itself trapped, even victimized, by power struggles involving Russia, but also China and the United States.
It is high time, he believes, for Europe to develop the capabilities necessary to defend its own strategic interests. Macron's ambitions for Europe as a global power will be tested in these weeks and months to come.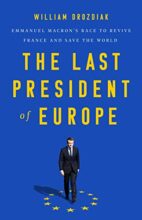 One of the most knowledgeable observers of European affairs, William Drozdiak, will join the John Adams to discuss the upheaval of the world geopolitical landscape with journalist Eelco Bosch van Rosenthal.
In his latest book, The Last President of Europe: Emmanuel Macron's Race to Revive France and Save the World, Drozdiak focuses on France's president and his efforts to shape the future of Europe and a new world order. Macron told Drozdiak, in several interviews for his book, that the European Union urgently needs to wake up and address what he calls the existential challenges threatening Europe's future.