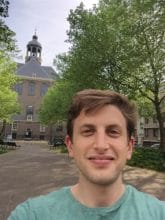 ---
People always talk about the ways that company culture affects organizational performance. But for some reason, these discussions rarely extend to the public sector. It's strange—contrary to common belief, governments are composed of human beings, and these individuals powerfully influence what government actually does. I'm a strong believer in the innovative potential of cities, but the fact of the matter is that if you want cities to do experimental, boundary-pushing things, you need to somehow get experimental, boundary-pushing people to work in public life.
Amsterdam has somehow accomplished this. In my time here, I've been struck by the number of individuals in the public and civic sphere who are looking to push the envelope. A sizeable contingent of people working for the greater good come from alternative, experimental, or countercultural backgrounds, and it shows. Public and civic life in Amsterdam is marked by a desire to be radically inclusive, to empower individual citizens, and to use the city as a testbed for innovation in many forms. This unorthodox orientation isn't an accident—it's a manifestation of the attitudes of people working in public and civic life.
A few examples.
Last week, I wrote about the Bureau Broedplaatsen. The way that this agency was formed is a great illustration of the openness of the policymaking atmosphere here. The idea was largely conceived of by the squatting community, who worked with partners in government to make the agency a reality. In 2000, the official proposal to create the Bureau was titled "No Culture Without Subculture." Can you imagine a city council in the United States working hand in hand with squatters and signing legislation with a title like this?
Jaap Schoufour, who has led the Bureau since 2004, is not your stereotypical civil servant. He is a passionate advocate for this city's artistic community, and sees creativity and experimentation as being essential to the spirit of Amsterdam. I've spent a bit of time with Jaap over the past few months, and it's been very interesting to see him in action. The creative community may not agree with everything he does, but there is a recognition that he is deeply committed to their cause, and that working with him (and thus, government) will help advance their interests. This dynamic between creative, countercultural people and city government is much more intimate than anything I'm familiar with in the United States.
Another example is Martin Berendse, the director of the city's public library system. Berendse has spent most of his career in artistic and cultural spheres—first, as a director and manager for several arts festivals and theater production companies, then as a leader in national cultural policy in The Hague. His tenure with the library system has been marked by bold new thinking on the role of libraries in the 21st century. I'm particularly impressed by the Maakplaats (Maker Space) initiative that he has helped implement. Within the next three years, ten libraries in various parts of the city will have dedicated maker spaces with a range of high-tech machinery. Library employees are being trained as instructors in "maker education" and digital fabrication, and soon, the general public will be able to enroll in courses, learn to use these machines, and access this technology at any time. It's a radical re-envisioning of the role that libraries play in their neighborhoods and communities.
As I've noted before, the civic community in Amsterdam is extremely influential, and it is full of alternative, do-it-yourself types. Marleen Stikker, the president and co-founder of the Waag Society, comes from a squatting background. She was a pioneer in the early days of the internet, having created the first virtual community with public access to the web in 1994. Egbert Fransen, founder and director of Pakhuis de Zwijger, led a consulting company for cultural industries, organized a range of music and arts festivals, and has consistently been involved in providing a platform for creative individuals. Both of these organizations are key players in bottom-up initiatives around the city and are regular provocateurs in the city's public discourse.
These are just a few examples of forward-thinking, culturally or counterculturally-inclined individuals working in Amsterdam's public and civic spheres. There are many more.
Watching this ecosystem in action, I can't help but see it as a kind of virtuous cycle. High-performing, off-beat, creative people join local government or civic groups to help drive innovative new approaches to social issues. Residents see the local public and civic sector as effective, bold, and inclusive, bolstering their trust in these organizations. Talented, creative people from a wide range of backgrounds see local government and civic groups as an effective outlet for their skills and ideas, making them more inclined to work in these places. There is a real sense of dynamism in public action, a strong feeling of social solidarity, and an intense public commitment to improving life in this city.
How can we jumpstart a cycle like this in cities in the United States?
Ross Tilchin is a visiting fellow at the Amsterdam Institute for Social Science Research and a member of the strategy team at the Amsterdam Economic Board. Before arriving in Amsterdam, Ross worked as a researcher at the Brookings Institution, a nonprofit research organization in Washington, D.C., where he specialized in urban economic development and a wide range of issues related to cities. You can read his previous blog here.