Feb 06, 2019 - Boom Chicago, Rozengracht 117, Amsterdam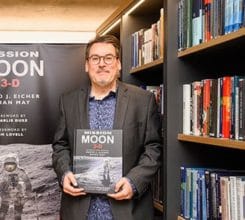 In 1969 a seemingly impossible goal was achieved as Neil Armstrong uttered his immortal line: "That's one small step for a man, one giant leap for Mankind." This year celebrates not only 50 years since Apollo 11 and the first human steps on the Moon, but also the achievements of all the Soviet and American heroes who risked and sometimes lost their lives in the race to the Moon.
The John Adams is happy to announce that David Eicher, renowned editor of the world's bestselling Astronomy Magazine, will take the John Adams stage to offer a unique insight into the American and Soviet "firsts" in space – from Sputnik through to the International Space Station and the Apollo program. After his talk he will have a moderated discussion with André Kuipers, the second Dutch astronaut to fly in space. In 2004, Kuipers flew on a brief mission to the International Space Station (ISS) and in 2011 he returned to the ISS, this time for 5,5 months.
Dave Eicher's new book Mission Moon: Reliving the Great Space Race, coauthored with Dr. Brian May, PhD astrophysicist and guitarist and founder member of the rock band Queen, is published by May's London Stereoscopic Company.  It is illustrated with 150 spectacular unseen 3-D photographs by May and Claudia Manzoni, and takes readers on a skillfully narrated journey through the events which led to Apollo 11's lunar landing in July 1969, when Neil Armstrong and Buzz Aldrin became the first people to walk on the face of the Moon.
Join us for an evening about space, heroism and one of humanity's greatest achievements.
Click here for a video of the moonlanding.
Special thanks to the Lloyd Hotel.