Apr 11, 2000 - Singelkerk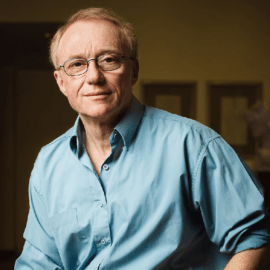 The John Adams institute hosted Israeli novelist David Grossman, who spoke on his novel Be My Knife. Be My Knife is the fifth novel by the highly acclaimed novelist, in which he explores the perennial dilemma of unrequited love. According to The Independent, it is "a head-spinning, breathtaking journey … a celebration of the transformative power of language".
Grossman has written dozens of books and achieved international acclaim for his works, which have been translated into more than 30 languages. Among Grossman`s many literary awards he was awarded the annual Sapir Prize, Israel's most prestigious literary award, for his work Someone to Run With in 2001. In 2004, Grossman was a co-recipient of the Bialik Prize for Literature from the municipality of Tel Aviv. In 2007, he received the Emet Prize which recognizes excellence in academic and professional achievements that have significant contributions to Israeli society.
Moderator: Otto von der Gablentz

In collaboration with: United States Embassy - The Hague, The Netherland-America Foundation, AEGON N.V., Publishing House Ambo, The Embassy of Israel, Heuvelman Sound & Vision, Claire Taylor, Borrie & Co R.A.