I also visited several small but world-famous sound studios such as Eddie Shuler' s Goldband Records in Lake Charles, not far from the Texan border. A small dark recording studio where in 1959 Eddie recorded the first single by Dolly Parton, then 13 years old, called ' Puppy Love' . But also in the 1950's he made the first recordings of Iry LeJeune, the legendary half-blind father of Ervin and Eddie LeJeune. He also repaired television sets. In 2017 they tore down that historical building.
---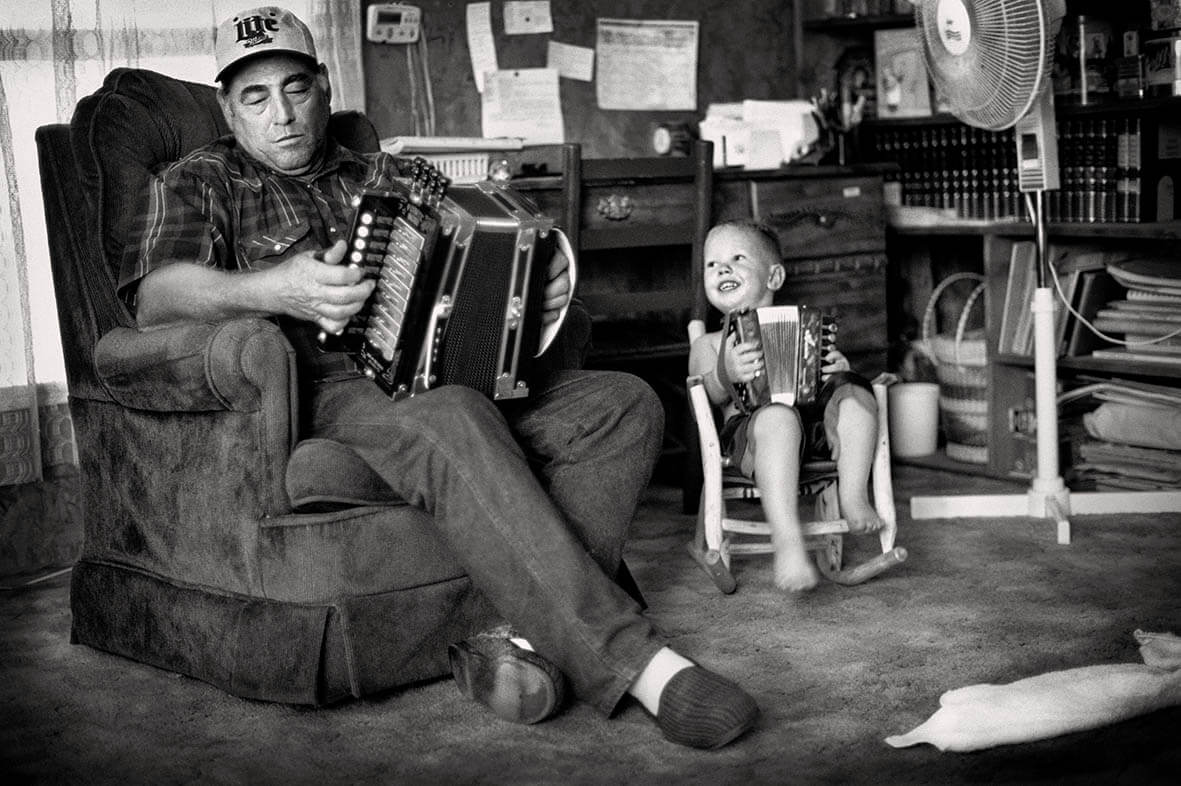 Iry LeJeune died in a car accident at the age of 26 in 1955. I first met his son Eddie LeJeune in September 1998, when I photographed him with his grandson Emerson Jr. at their house in Morse. When Eddie went on tour in Europe a few months later, I met him again at a gig in the Netherlands, in the Blues Café in Apeldoorn. He was wearing the same house slippers that he wore in his living room in Morse.
---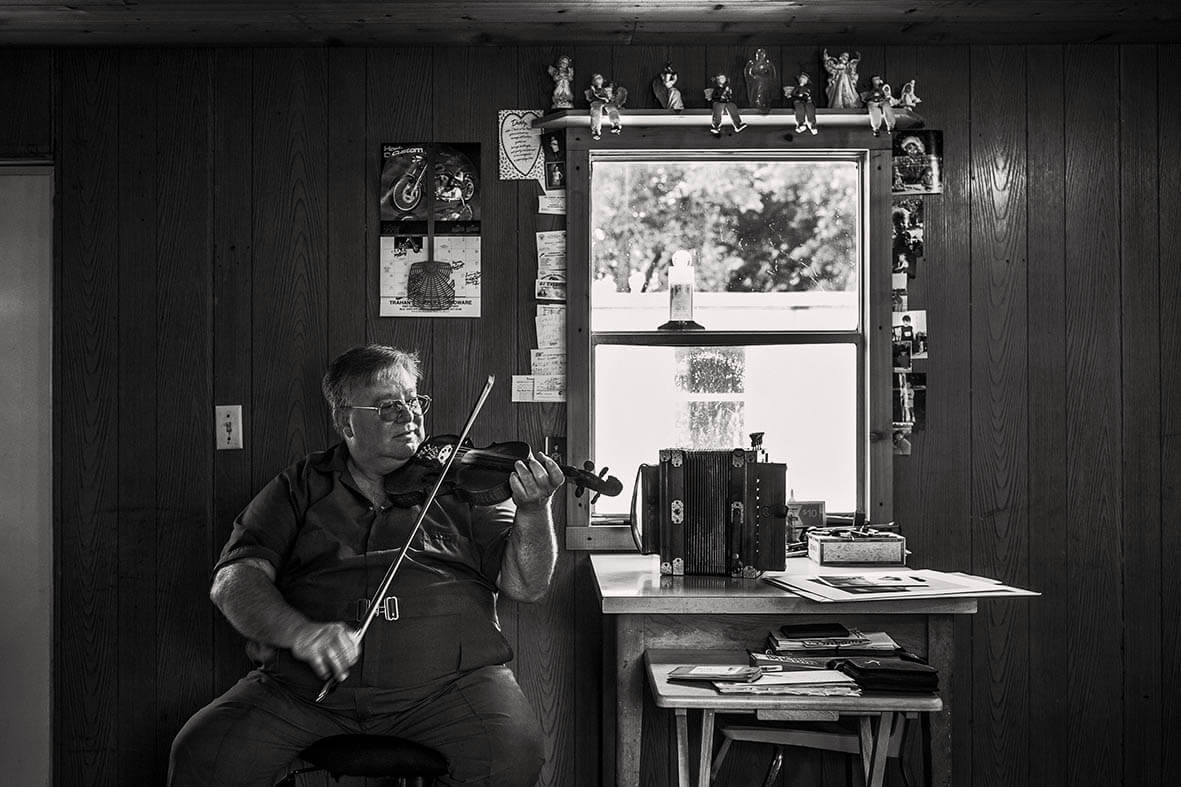 Ervin Lejeune showed me the accordion and fiddle of his father Iry. He was an accordion builder and a passionate Cajun musician. When I bought one of his handmade accordions I paid him with all the money and checks I had with me, but I still came up $30 short. That was fine with Ervin. He said: "Ok, now we go out for a crawfish meal!" I said, "But Ervin, I have no money anymore!" Ervin with a big smile: "But I have!"
Ervin died on January 26, 2018, 67 years old.
---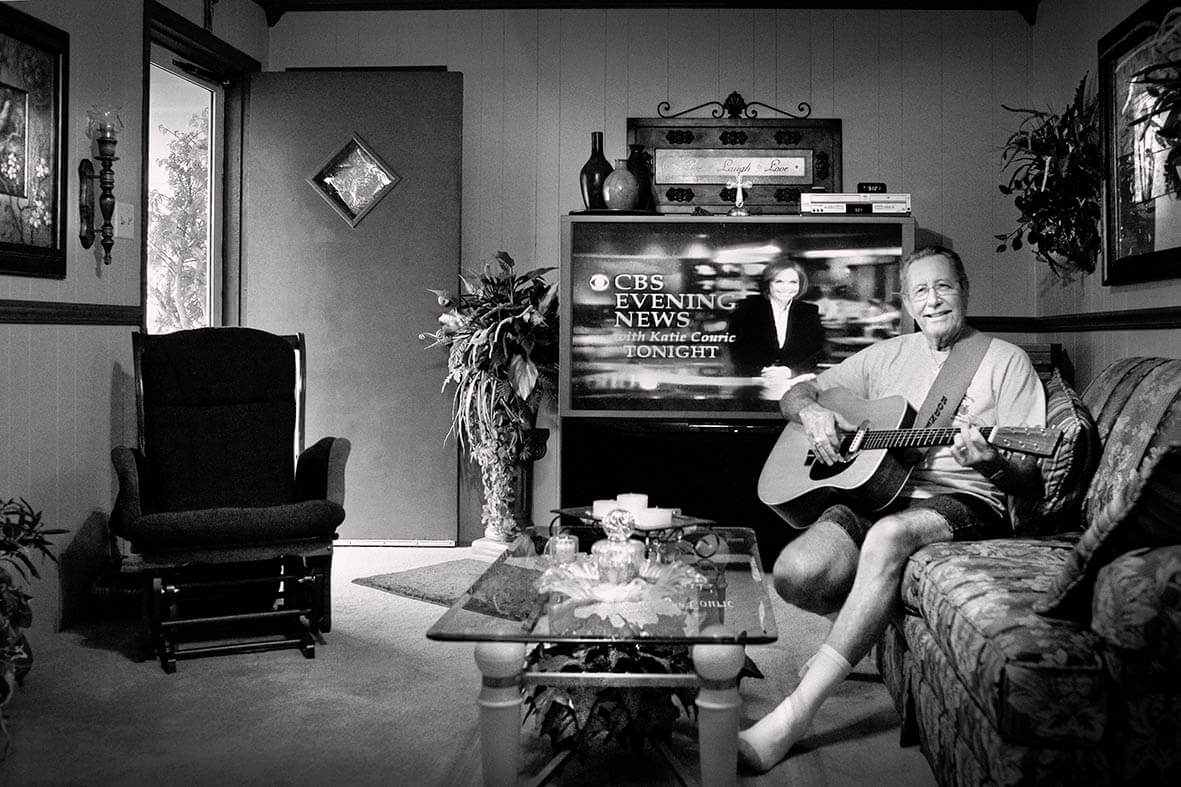 Rodney Lejeune, a cousin of Iry, lived just across the border in Texas, in a town called Nederland. It was founded in 1897 by farmers from the Dutch province of Friesland. When Rodney saw that I wanted to take a picture with an image of Obama on the giant tv set, who was still in the election battle, he said kindly but strictly: "Oh no, not with that man!"
---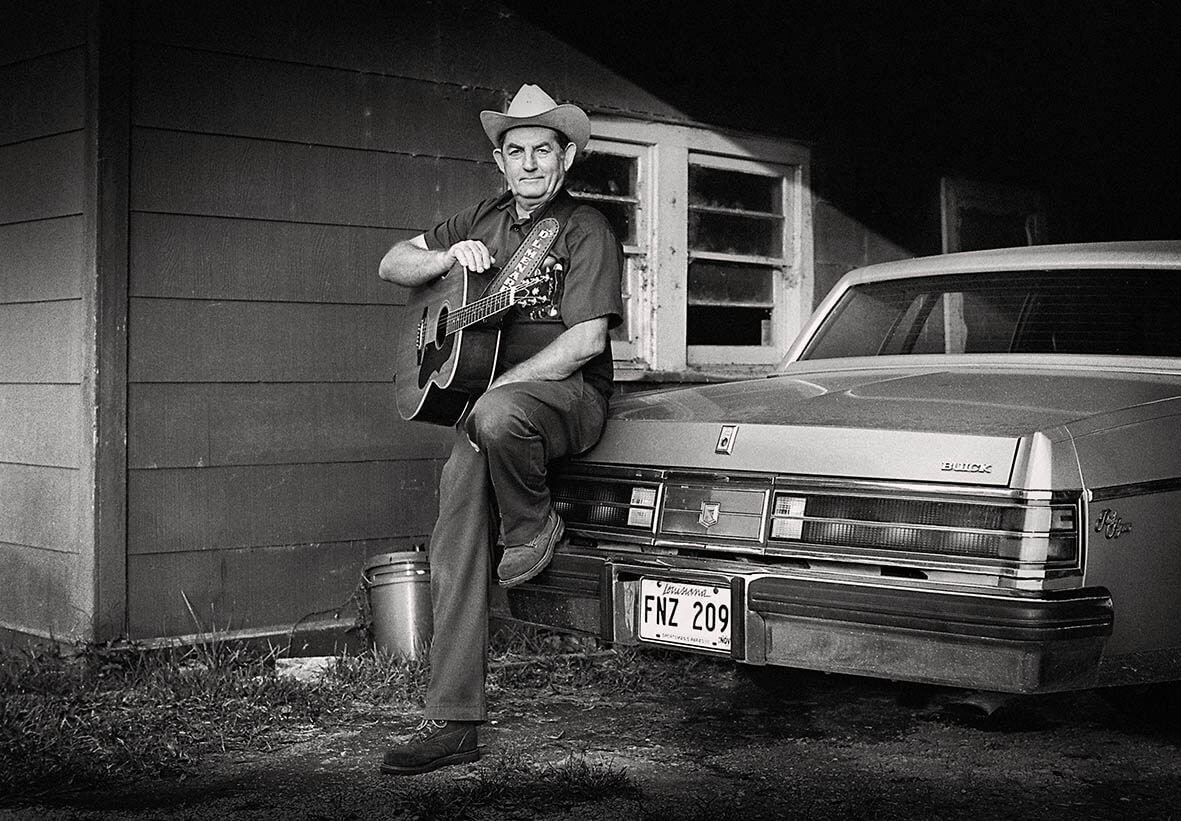 Looking for Mr. D.L. Menard, I stopped at a police station in Erath to ask directions. "Drive a little until you get to a small bridge with trees on the left, that's where he lives." But after 10 minutes,  not a bridge with trees in sight. I went back to ask again. "Just keep on driving", was the answer. After another 10 minutes still nothing, but I did see some people standing by a house. As I approached them, a man came up to me and asked if he could help me. "I'm looking for Mr. D.L. Menard." "Well, that's me," the man said, "follow me." He had been visiting friends. It was at least another 10 minute drive to his house. Now I know that "a little further" in America is at least another 20 miles.
---
On Sunday, November 10th, Emile Waagenaar will give a lecture in Utrecht on his photo series of Cajun musicians. For more info, click here. You can order 'Arrête pas la musique! – Portraits of South Louisiana' from Amazon here. 
This is the fifth of seven blogs based on Dutch photographer Emile Waagenaar's book of portraits of Cajun musicians. The first one appeared on September 18, 2019.