May 20, 2014 - Stadsschouwburg, Leidseplein 26, Amsterdam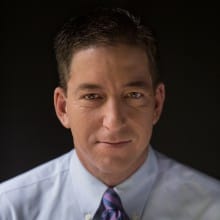 The journalist Glenn Greenwald broke the biggest news of 2013: in The Guardian he reported on the surveillance by the American National Security Agency brought to light by Edward Snowden's leaked documents. His stories triggered a fierce debate over national security, the amount of big data government gathers on citizens without their knowledge or consent and the concomitant privacy issues. He was one of the journalists at The Guardian and The Washington Post who were awarded the Pulitzer Prize for public service last month. 
Greenwald's new book No Place to Hide appeared in the Dutch translation this week as De Afluisterstaat, and in collaboration with publisher Lebowksi the John Adams Institute hosted an evening with this controversial media figure. In his book, Greenwald, who now lives in Brazil, reveals fresh information on the NSA's practices and recounts his experiences reporting on Snowden's documents.
Moderator: Juurd Eijsvoogel
Read his introduction here.
In collaboration with: Lebowski publishers, Stadsschouwburg Amsterdam, HAFF, American Embassy The Hague, AEGON