My wife and I both work from home. We live in a small town in the mountains of western Maryland, which is always quiet. So: not much change. Except that our 10 year old is no longer in school, and our 19 year old is back from his first year at university. Both of them are here with us, roaming around the house, settling in front of a computer to do some school work, then roaming again. Maybe what's weirdest about that is that they're both being so nice. We all are. Nobody is panicking or getting on each other's nerves. I guess we all know there's nowhere to go, so we don't let ourselves slip into bitchiness or pouting, which would only spiral downward.
We go on long walks, together or in pairs or alone with the dog.
Of course we consume news fiendishly, including from friends and family, and report findings to whoever is in the same room. "Prince Charles has it." "Is somebody taking care of your aunt?" Yesterday we learned that Pamela's niece, a nurse in the neo-natal unit at Johns Hopkins University Hospital, was told they were running out of hospital masks so they should be prepared to bring bandannas to work. That is possibly the single most alarming thing I've heard to date.
It is impossible to overstate the hideousness of Trump, including the fact that a large majority of Republicans continue to see him as a credible human being, let alone as a credible leader. His hideousness has grown exponentially with all of this. The future will look back on the Republican Party in the United States at this moment as on a par with the very lowest depths of human thought and morality.
My mother is sheltering with my sister and her family, which is a relief: everyone in that household is working from home. My niece was on a plane last week and the man next to her was coughing; today she doesn't feel well so everyone is wondering if she has it. A friend in New York told me yesterday he has been volunteering at a homeless shelter, which is noble and kind, but I worry about him getting the virus. He lives alone and has no family.
Every day more people tell me they are watching Governor Andrew Cuomo's press conferences as an antidote to Trump's horror shows. Cuomo offers information and empathy. In the evenings he appears on his brother's news show on CNN. Their mix of news with fraternal taunting is the first big TV hit of the coronavirus era.
At the start of all of this, I bought a jigsaw puzzle, figuring we would be stuck together and it would be a family project. Nobody has done more than fiddle with a few pieces. Maybe we'll start on it in a week or two. It's a painting of the facade of Shakespeare and Company Bookstore in Paris. I loved going there when I was in Paris in my early twenties, pretending that I'd just missed Ernest Hemingway paying a visit to Sylvia Beach.
Benji, the 19 year old, has become a body builder. When I told him he couldn't go to the gym, he didn't get angry but instead put together a homemade gym in the car port out back, then announced that he was going to provide customized training regimens for Pamela and Anthony. They've been doing their workouts, maybe more for his sake than theirs. So far I have been able to resist getting buff.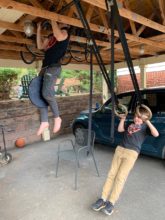 We all four eat dinner together every single night. They've been pretty great dinners, both the food and the conversation. Relaxed, roaming topics. The virus filters into the conversation, then gives way to another subject. Last night we were talking a lot about our apartment in Amsterdam, and the time one of the two cats — Simon — ran away. Simon never returned. Garfunkel continued living with us for years, then last year he got hit by a car. We wondered if maybe Simon was still out there, roaming Oud Zuid.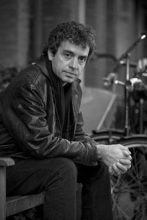 Russell Shorto is an American writer, historian and journalist, best known for his book on the Dutch origins of New York City, 'The Island of the Center of the World'. He is also the author of 'Revolution Song: A Story of American Freedom', which tells the story of the American Revolution through the eyes of six Americans from vastly different walks of life. Shorto is a former director of the John Adams Institute. He currently lives in Maryland. He is a senior scholar at the New Netherland Institute and a contributing writer at the New York Times Magazine.