Nov 08, 2004 - West-Indisch Huis, Herenmarkt 99, Amsterdam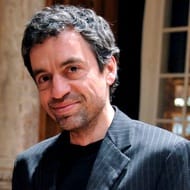 How did Manhattan grow into the most powerful city in the world?
After literally stumbling over the gravestones of early Dutch settlers near his apartment in New York City's East Village, Russel Shorto wanted to know more about this overlooked chapter in the history of old Manhattan. He visited archives in the city and eventually found his way up to Albany, and to archivist Charles Gehring, who in the late 1960s, made an astounding discovery.12,000 pages of centuries-old correspondence, court cases, legal contracts, and reports from a forgotten society: the Dutch colony centered on Manhattan. The colony was Dutch, but more than half its residents were not. Swedes, Germans, Jews and others flocked to this colony, for the Dutch Republic of the 17th century was itself built on a policy of tolerance that made it the melting pot of Europe. The directors of New Netherland were first and foremost business entrepreneurs. As long as profits rose, they maintained a laissez-faire attitude. When disputes arose, there was a sophisticated system of courts and a criminal justice apparatus to adjudicate disagreements.
The book recounts the fascinating struggle between the demanding peg-legged director-general of New Netherland, Peter Stuyvesant, and the lesser-known but more influential Adriaen van der Donck, whose appreciation for individual tolerance laid the foundation for our Bill of Rights and helped to create American national character. With a novelist's touch, Russell Shorto reconstitutes history by presenting astonishing information on the founding of the US; he reveals in riveting details the crucial role of the Dutch in making America what it is today.
_________________________________________________________
Links:
In collaboration with: Van Ditmar Bookimport, AEGON, American Embassy The Hague, Van den Berch van Heemstede Fonds, Ministerie van OC&W, The Netherland-America Foundation, SNS Reaal Fonds