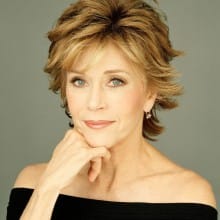 From Hollywood to Hanoi, Jane Fonda has endeared and enraged Americans for more than four decades with her sparkling performances and outspoken views. Following an eclectic career as an actress, activist and fitness guru plus a string of high-profile husbands the acclaimed Fonda tells all in her new autobiography.
Throughout her youth among Hollywood's elite and her early film career, to the challenges and triumphs of her life today, Jane Fonda reveals intimate details and universal truths that she hopes 'can provide a lens through which others can see their lives and how they can live them a little differently.'
After the suicide of her mother when she is twelve years old and the emotional distance of her father, Jane Fonda began her career with a personal struggle to find her own way in the world, which laid the ground for her later activism. Her presence in the public eye is reinforced through her marriages to Tom Hayden and Ted Turner, as well as though her controversial and defining involvement with the Vietnam War. In her memoir, Fonda demonstrates how she is prepared to do the work of a lifetime to begin living consciously in a way that might inspire others who can learn from her experiences. Surprisingly candid, and wonderfully written, Jane Fonda's My Life So Far is filled with universal insights into the personal struggles of women living full and engaged lives.
_________________________________________________________
Jane Fonda's TED talk, "Life's third act":