Nov 12, 1997 - West-Indisch Huis, Herenmarkt 97, Amsterdam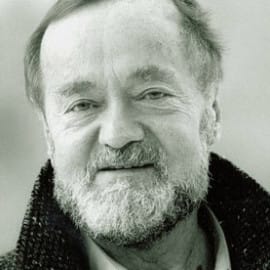 Born in England, Stephen Toulmin studied Mathemathics and Physics at Cambridge University where he obtained a doctorate in philosophy with a dissertation on Ludwig Wittgenstein. His career encompasses an almost boundless range of activities. He has worked in the fields of linguistic philosphy, the philosophy of science and the history of science. He spent many years as the professor of philosophy at universities in Britain and USA, and was also Avalon Foundation Professor in the Humanities. His published books include The Uses of Argument, Cosmopolis and Wittgenstein's Vienna. In the Netherlands, Toulmin also contributed substantially to the documentary series, A Glorious Accident, produced and broadcasted in 1993. The Toulmin Model of Argumentation was considered his most influential work, particularly in the field of rhetoric and communication, and in computer science.
Toulmin died of a heart failure in 2009 at the age of 87. Read his NY Times obituary here.
_________________________________________________________
Moderator: Frans van Eemeren

In collaboration with: Renaissance Amsterdam Hotel, NOG Verzekeringen, Universiteit van Amsterdam, United States Information Service the Hague, LIRA Fonds, IBM Nederland, Koninklijke KNP BT, Claire Taylor - Copywriter, Borrie & Co R.A.