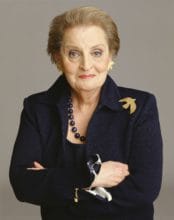 We are happy to announce that former U.S. Secretary of State, Madeleine Albright, is returning to the John Adams Institute to discuss her latest book 'Fascism: A Warning', which offers a personal and urgent examination of fascism in the twentieth century and how its legacy shapes today's world.
After her talk, Former Secretary Albright will discuss this growing threat to peace and justice with First Vice-President of the European Commission, Frans Timmermans.
Fascism, as Albright shows, not only endured through the twentieth century but now presents a more virulent threat to peace and justice than at any time since the end of World War II.  "Fascism is not an exception to humanity, but part of it," says Madeleine Albright, whose life was shaped by fascism and whose contribution to the cultivation of democracy as a stateswoman and a private citizen is unparalleled. According to Albright, there are similarities between the '30s and today: "In the United States there are people who are feeling left out economically.
Also, there's the sense that America is better off not being involved in international relations, that people around the world haven't appreciated America enough." Albright's book is dedicated to victims of fascism, but also to "all who fight fascism in others and in themselves". Fascism: A Warning is a book for our times that is relevant to all times.  Written by someone who has not only studied history but helped to shape it, this call to arms teaches us the lessons we must understand and the questions we must answer if we are to save ourselves from repeating the tragic errors of the past.
This event is sponsored by KLM.
To watch the video of this event, click here.