Mar 29, 1994 - West-Indisch Huis, Herenmarkt 97, Amsterdam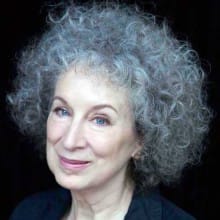 On March 29th, 1994, the John Adams Institute hosted author Margaret Atwood, who spoke about her novel The Robber Bride. The evening was moderated by Dutch author Nelleke Noordervliet, and included an interview afterwards.
Margaret Atwood has often been called "the ambassador of Canadian literature". In addition to her seven novels including best-sellers like The Handmaid's Tale and Cat's Eye, she has published numerous volumes of poetry and short stories, two children's books and works of literary criticism. Much of her energy has been devoted to promoting Canadian literature, and she has worked hard to free it from the cultural inferiority context often found in former colonies. In a style that combines keen but apparently distant observation with wry humor, Atwood's fiction has tackled such topics as gender roles, violence and power relationships. Her work has been taken up by feminists, particularly after the publication of The Handmaid's Tale, a horrific twenty-first century nightmare of female repression.
_________________________________________________________
Links:
Moderator: Nelleke Noordervliet

In collaboration with: Amsterdam Renaissance Hotel, Uitgeverij Prometheus/Bert Bakker, Penguin Books Nederland, van Ditmar Boekenimport, The American Book Center, the United States Information Service the Hague, Canadian Embassy the Hague, Digital Equipment B.V., Kwartaalblad 'Amerika'