The John Ada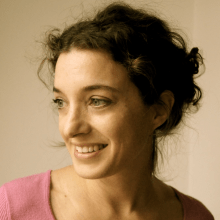 ms Institute and AEGON organized a special event at the Mauritshuis in The Hague. We hosted American author Nina Siegal, author of the novel The Anatomy Lesson (published in translation by The House of Books as Tulpen en Terpentijn), based on the famous painting by Rembrandt. Siegal was joined by a panel of experts including Emilie Gordenker, director of the Mauritshuis, Norbert Middelkoop, curator at the Amsterdam Museum and specialized in anatomy lesson paintings, and Frank IJpma, surgeon at the UCM Groningen.
Following the event in the auditorium we hosted a reception in the Gouden Zaal of the Mauritshuis, as well as a reading by Nina Siegal in front of the actual painting The Anatomy Lesson.
This was a private gathering for members of the John Adams Family and guests of the Mauritshuis and Aegon.