America always held some magic for me. Even as a child, I knew things happened in that vast country on the other side of the ocean. Interesting things somehow reached my small village in the south of the Netherlands: a LIFE magazine picture of a dashing young John F. Kennedy; a movie poster of Rosemary's Baby, with the ethereal Mia Farrow, whose bobbed hair and beauty seemed otherworldly to me; the painting of the Grand Canyon hanging at the dentist 's wall – all glimpses of a future I set out to be part of.
So, when years later the possibility of moving there presented itself, I didn't think twice. Of course, America had lost some of its allure over the years. Different clips were now engraved in my mind: of unjust wars waged in countries they should not have set foot in in the first place; of shameful poverty that caused people to live and die on the street; and not to mention deep-rooted racial and social injustices. Still, I was now in the country I had dreamed of: a place that stirred my creativity, and that gave me opportunities beyond my childhood dreams.
But decay, sadly, is a silent and certain killer against which everything of value is defenseless. When Trump took up residence in the White House, insulting my hero Obama in his inaugural speech, it was merely a symptom of how divided the country had become. And on January 6, 2021, when watching the US Capitol being stormed, I felt a tremendous loss. It was the end of the USA that I had admired. This country couldn't hold itself together anymore, and I was downright frightened. Similarly, social media – where I had happily announced a new book, an article, and regularly voiced my opinions – had become an explosive war zone in and of itself. A new reality had set in. Rudeness, trolling, and vile online attacks made the public arena an unsafe spot to linger.
I started to long for home, dreaming of returning to the country referred to by its prime minister as gaaf, a "cool" country.  And it sure was, when I left ten years earlier. Of course, I was not naïve. I had followed the news. I was aware of the rise of antisemitism, of the alt right, and of a growing intolerance of "woke" culture. But I was not prepared for the extent to which Dutch society had copycatted the American model like some sort of instruction manual.
Fake news, virulent antidemocratic sentiments, unabashed admiration of populists, and aggressive personal attacks had all become commonplace. Some members of Dutch society had embraced the model of "Trumpism" wholeheartedly. And just as I thought that I had escaped the former president, Mr. Trump himself stuck his fingers into Dutch politics by publicly showing support to a group of violently protesting farmers who stood in sharp opposition to the government. A sensitive issue. Even here I sometimes feel unsafe in the public eye. Some acquaintances, with whom I used to share happy moments on social media, had become downright hostile.
I had left a country that had changed beyond recognition to arrive in one that had undergone similar transformation. The world as I knew it had disappeared. In past centuries, when making maps, cartographers drew monsters in unknown places: "Here Dragons Dwell," the wrote underneath. You had better watch out: danger lurks in unfamiliar places. Yet, oddly enough, now that the world's geography holds few secrets anymore, there appear to be more dragons in our midst than we could have ever imagined.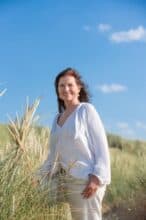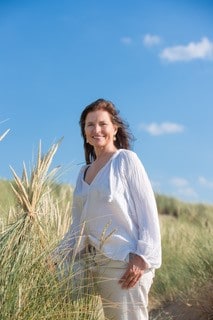 Pia de Jong is a Dutch writer and columnist. She wrote several novels: Her debut 'Lange dagen', a coming of age novel, won the Gouden Uil award. 'Saving Charlotte, A Mother and the Power of Intuition', is a memoir about the year her baby daughter battled leukemia. Pia wrote for the Princeton Echo, US 1, the Washington Post, Het Financieele Dagblad, and documented her life in Princeton N.J. for NRC Handelsblad. Her columns have published in Flessenpost  and Pia's Amerika. You can contact Pia via her website. Illustrations are by her daughter Charlotte Dijkgraaf, who studies at the Gerrit Rietveld Academy. Click here for part 1 of this blog series.