Being naked in public, Americans are taught at an early age, is a big no-no, even, or maybe especially, at the beach. I was once reprimanded for letting my baby daughter and toddler sons play in their birthday suits on a remote strip at a deserted beach. But lo and behold, a man wearing a uniform seemed to pop out of the sea – a Neptune with badges. What was I thinking?  He called the scene involving my innocent children 'obscene'. Even very young girls, he explained as an added bonus, have to cover their nipples. I was immoral.
There are clothing-optional recreation areas though, one of them being Gunnison Beach. The only legal nude beach in New Jersey. However, the place exists by accident. In 1999, New Jersey passed a law to prohibit all types of nudism. But Gunnison Beach is owned by the federal government, and therefore not subject to state regulations. So, they have to deal with the brazen nudists, whether they like it or not. They make sure though people do not get the shock of their life. Unsuspecting passers-by are warned against the accidental viewing of uncovered private body parts. A huge sign at the entrance, in black capitals, reads: "Beyond this point you may encounter nude sunbathers."
Public nakedness in America at best makes people giggle. Mostly it instills fear because of the sexual connotation. That's why the showing of Janet Jacksons right breast during the 2004 Super Bowl halftime show, caused such a big stir. For two years thereafter "Nipplegate" was the most searched-for term. And Jacksons nipple was even shielded!
The Dutch have a different mindset. My American colleagues used to refer to the Netherlands as the country of sin. And hey, I could not blame them. What else to make of a country that creates a tourist attraction out of prostitutes sitting behind glass windows?
Back in Holland, a friend invited me for a walk in a pretty beach town called Scheveningen. "Exactly the place you need", this nice elderly lady told me. "Your dogs can run off leash."
I was sold immediately for what I anticipated to be an idyllic afternoon. The weather was balmy, the dogs played care free. But after a while, it dawned on me we were constantly running into nudists. What were they doing at the dog beach?
"Oh well", my friend said, waving my question away. "This also is a nude beach."
"No warning sign?" I asked.
"Why would there be a warning sign?" she asked.
"Well, there's a sign that dogs run loose," I said
"Naked people don't bite," she said with a shrug.
Well, I couldn't argue with that.
From then on, the beach became my go-to walking area. And after a while, I did not even notice the nudists anymore. Until my New Jersey neighbor came to visit me. He awed at the tulips, the windmills and the canals. We visited the famous Panorama Mesdag museum, depicting this very beach in 1881, a time when even in the midst of summer women wore long skirts and sleeves and children covered up everything but their ankles and feet.
Then I took him to the shore. Watching the shining sea in front of us, we took a moment to let the magic of the moment sink in. Suddenly, three women in front of us started to undress. Stark naked they walked to the water, and just stood there, laughing and joking. My neighbors face turned red. "Have you seen that, um, I mean, those women, um, they seem to not…", he mumbled. "I had no idea", I said, shoving him away as fast as I could. "Them Dutchies, no shame at all. Let's get the hell out of here."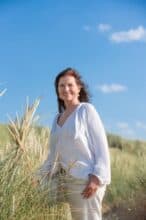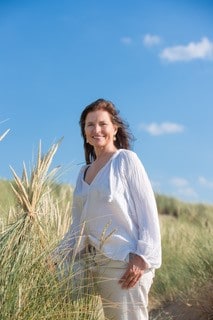 Pia de Jong is a Dutch writer and columnist. She wrote several novels: Her debut 'Lange dagen', a coming of age novel, won the Gouden Uil award. 'Saving Charlotte, A Mother and the Power of Intuition', is a memoir about the year her baby daughter battled leukemia. Pia wrote for the Princeton Echo, US 1, the Washington Post, Het Financieele Dagblad, and documented her life in Princeton N.J. for NRC Handelsblad. Her columns have been published in Flessenpost  and Pia's Amerika. You can contact Pia via her website. Illustrations are by her daughter Charlotte Dijkgraaf, who studies at the Gerrit Rietveld Academy. Click here for the other parts of this blog series.