Sep 15, 2021 - OBA Theater, Oosterdokskade 143, Amsterdam
Could it really be happening? Will there – after more than a year and a half online – be a John Adams event with a real, live speaker?! Yes, in addition to our rich online program we are happy to start welcoming speakers in person again. On September 15, Russell Shorto will take the John Adams podium to talk about his latest book Smalltime, translated by Ambo Anthos as Pater Familias.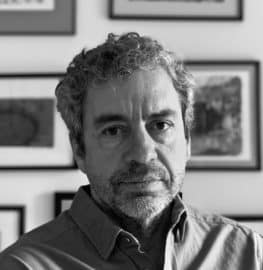 Smalltime is a thoughtful family memoir about Russell Shorto's grandfather (and namesake) who ran the mob in Johnstown, Pennsylvania. But it is also an immigration narrative filled with dreams and aspirations: a fascinating read how a poor Italian immigrant family became rich through small cons and hustles during the Prohibition. The discrimination and poverty these immigrants faced forced them into the worst jobs in coal mines and eventually the steel mills in the Johnstown area. In reaction, the immigrants became close knit and prone to seek extra-legal means of earning a living.
Shorto reveals how the underground economy mirrors that of the capitalist superstructure: the hierarchy and the manipulation of the social and legal systems of a small society.
Moderator: Tracy Metz

In collaboration with: Ambo Anthos & OBA