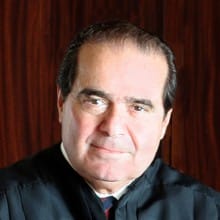 Having been known for his powerful intellect and unequivocal opinions, Antonin Scalia served 28 years on the U.S. Supreme Court. Having been considered one of the Court's most conservative justices, he was regarded by George W. Bush as a model for future judicial appointments, which lead to speculation that he could one day occupy the Chief Justice's chair.
Not surprisingly, Scalia had attracted his share of admirers and critics alike. His writings for the Court reflected a strong personal style and obvious passion, which made him a colorful and controversial character on the American legal scene.
Antonin Scalia passed away in 2016.
Bert van Delden moderated the evening.
Organized in cooperation with the University of Amsterdam Law Faculty and Meijers Institute of Leiden at the Uva Aula.
_________________________________________________________