The John Adams and the Fulbright Center are bringing Pulitzer Prize-winning journalist Jonathan Capehart to Amsterdam. Capehart is a contributor to MSNBC, host of "America on the Line" on New York Public Radio (WNYC) and a member of The Washington Post editorial board, where he writes about politics and social issues. He will discuss the upcoming US mid-term elections on Tuesday Nov. 6th, which will shape the American political landscape for the next two years and beyond. The Republican Party is tipped to retain their majority in the Senate, but with dozens of Republican lawmakers retiring this year, the Democratic Party has a decent chance of taking over the House. And then? Will the Democrats block Trump's nominees, pass new liberal state laws, kill the Republican legislative agenda in Congress? And what if the Democrats do poorly in the elections?
Join us for an evening with one of Washington's insiders about why the November vote is shaping up to be a battle for the future of the country.
This the first of a new annual lecture series co-organized by the John Adams Institute and the Fulbright Center. Together we hope to encourage mutual understanding and foster engaging intellectual exchange and lively discussions. If you are not familiar with the Fulbright Center, a binational organization with academic scholarships and other programs to foster mutual understanding between citizens of the United States and the Netherlands, please consider looking into their programs and supporting their work (www.fulbright.nl).
Click here to listen to Jonathan Capehart's podcast 'Cape Up'.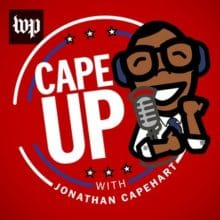 With special thanks to Lloyd Hotel, Amsterdam