Jun 25, 2020 - Online event @ New Metropolis Zuidoost
With her book The Education of an Idealist: A Memoir, Samantha Power – Barack Obama's ambassador to the United Nations from 2013-2017, Pulitzer Prize winner and human rights advocate – has written an intimate, powerful, and galvanizing memoir.
The book traces Power's distinctly American journey from immigrant to war correspondent to presidential Cabinet official during the Obama administration. The reader follows her as she navigates the halls of power while trying to put her ideals into practice.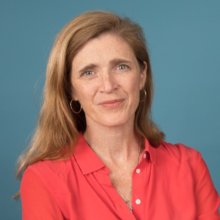 During an online double interview, she was joined by Karel van Oosterom, the Netherlands' Permanent Representative to the UN in New York since 2013. Van Oosterom recently published 'Met een Oranje Das (With an Orange Tie), about his experiences as the Dutch representative to the Security Council in 2018.
Both their books, hers with the title Leerschool van een idealist, were published by Atlas Contact. Together, in conversation with moderator Chris Kijne, they explored the intricacies of the United Nations, the Security Council and personal ideals, and how to make a difference in the world.
Moderator: Chris Kijne

In collaboration with: Atlas Contact