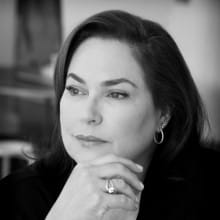 With her new novel Lucky Us, Amy Bloom, a finalist for both the National Book Award and the National Book Critics Circle Award, proves again that she is one of America's most gifted literary voices.
Set in the decade of world War II, in the years between 1939 and 1949, the novel moves from past to future and back again as it follows the half-sisters Eva and Iris on their cross-country journey to Hollywood to pursue Iris' dream of becoming a starlet. The story is about luck – good as well as bad, the perennial search for fame and fortune and about what makes a family.
Bloom's unique talent for writing an ironic and sometimes devilishly understated narrative will resonate with the reader and make you think about the importance of the people in your own life. "A story of stunning invention," according to Publisher's Weekly.
This was Amy Bloom's third visit to the John Adams Institute, following her visits in 2008 and 1997.
Click below to watch the video of her 2008 visit.