Oct 10, 1992 - West-Indisch Huis, Herenmarkt 97, Amsterdam
On October 10th, 1992, the John Adams Institute hosted Professor William H. Calvin. He spoke about his book The Cerebral Symphony, in which he discusses different theories on consciousness and how the conscious and the brain work together. The evening was moderated by astronomer Dr. Frank Israëls.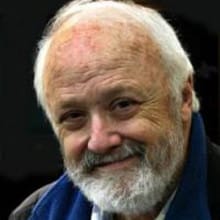 William H. Calvin is a theoretical neurobiologist, Affiliate Professor of Psychiatry and Behavioral Sciences at the University of Washington in Seattle.  He is the author of a dozen books, mostly for general readers, about brains and evolution. His books include A Brief History of the Mind: From Apes to Intellect and Beyond and A Brain for All Seasons:  Human Evolution and Abrupt Climate Change. He explains himself: "What I focus on is how you avoid speaking incoherent nonsense – how your brain creates ever more coherent arrangements of ideas in the several seconds before you speak. But I'm also fascinated by why such quality bootstraps evolved in the last few million years." Read more on his website here.
_________________________________________________________
Moderator: Dr. Frank Israël

In collaboration with: Ramada Renaissance Hotel Amsterdam, Uitgeverij Bert Bakker, Stichting Wetenschap en Techniekweek 1992