Jun 03, 1996 - De Rode Hoed, Keizersgracht 102, Amsterdam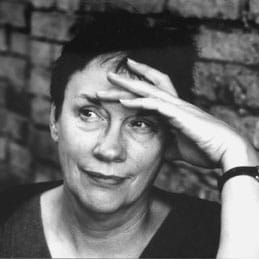 The John Adams Institute hosted an evening with the American novelist Annie Proulx (1935), who caused a literary sensation with her first novel Postcards (1992). She continued to surprise readers and critics alike with her second novel, The Shipping News (1993), for which she won both the Pulitzer Prize and the National Book Award. Everything in Proulx's writing is extraordinary, and verges on absurdism. Her novels are inhabited by obscure characters from dysfunctional families, who find themselves entangled in complicated plots.
Postcards is based on picture postcards mailed from the road over a period of forty years, describing changes in American life over the last four decades.
Born in Norwich, Connecticut, Proulx led a remarkable life, which she once described as "wild", only to add "incautious, heedless, reckless, and stupid". She was married and divorced three times, while she raised three sons on her own. As a freelance journalist, she wrote on topics ranging from canoeing to gourmet cooking. Her work is everything but autobiographical. As she believes, one should not write about what one knows, but about what one would like to know. At the moment, Proulx lives in Wyoming. Her sudden success did not alter her passion for writing. "The writing was something that I kept to myself; not a secret vice, but certainly a secret pleasure."
_________________________________________________________
Moderator: Nelleke Noordervliet

In collaboration with: Amsterdam Renaissance Hotel, NOG Verzekeringen, Uitgeverij de Geus, Van Ditmar Boekimport, KLM Royal Dutch Airlines, United States Information Service the Hague, NV Koninklijke KNP BT, IBM Nederland N.V., Stichting LIRA Fonds, Claire Taylor - Copywriter, Borrie & Co-Registeraccountants