Jun 15, 1995 - Koepelzaal, Kattengat 1, Amsterdam
On June 15th, 1995, the John Adams Institute presented a lecture by Deborah Tannen, Professor of Linguistics at Georgetown University in Washington D.C. Dr. Tannen discussed her book, Talking from 9 to 5.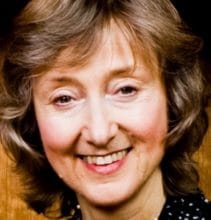 Deborah Tannen looks at the role played by talk 'from 9 to 5', focusing in particular on the differing conversational rituals that typify men and women. Those common among men involve opposition such as banter, joking and playful put-downs; common among women are ways of maintaining the appearance of equality, avoiding boasting and downplaying authority. Arguing that no one style is superior, Tannen shows that when conventions are taken literally, there are negative results for both sides. She illuminates the different ways men and women make decisions, ask for information and delegate. Then shows how these styles affect how we are judged in the workplace. Deborah Tannen earned international recognition for her studies on the differing styles of communication of men and women. The evening was moderated by Dutch author Yvonne Kroonenberg.
---
Links:
Moderator: Yvonne Kroonenberg

In collaboration with: Amsterdam Renaissance Hotel, Uitgeverij Prometheus, United States Information Service the Hague, NV Koninklijke KPN BT, NCM Holding N.V., the Netherland-America Foundation, Ministerie van Buitenlandse Zaken, Prins Bernhard Fonds, the American Book Center, Stichting Artimo, Claire Taylor-Copywriter, Borrie & Co-Registeraccountants, Boom Chicago