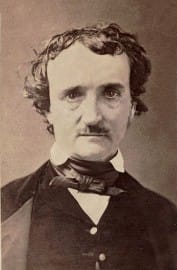 American writer Edgar A. Poe is famous for his literary qualities, however this lecture sheds a different light on Poe: as a foremost man of science. Even though he is admired all over the world nowadays, Poe's reputation is still scarred by the attacks of his enemies of long ago:
Had other circumstances favored, it is more than probable that Poe would have been known to the world as one of its foremost men of science and most brilliant discoverers; and perhaps his friends might have known that he sometimes amused his leisure by writing strange, weird, beautiful little poems (William Hand Browne, 1869).
Leading 'Poe researcher' René van Slooten wants to undo the reputation of Poe of those undeserved stains from the past in this free lecture. According to van Slooten, Poe's final treatise, Eureka – a response to the philosophical and religious questions of his time – was in fact a forerunner to Einstein's theory of relativity, which illustrates that Poe was indeed a brilliant discoverer.  Among the keystone of his oeuvre, Eureka, his other work and life will also be reviewed.
About René van Slooten: His interest in Edgar Allan Poe's 'Eureka' started in 1982, when he found an antiquarian edition and read the scientific and philosophical ideas that were unheard of in 1848. He became a member of the international 'Edgar Allan Poe Studies Association', and his first article about 'Eureka' appeared in 1986 in a major Dutch magazine. Since then he published numerous articles, essays and letters on Poe and 'Eureka' in Dutch magazines and newspapers, but also in the international magazines 'Nature', 'NewScientist', and TIME. He published the first Dutch 'Eureka' translation (2003). His main interest in 'Eureka' is its history and acceptance in Europe, and its influence on philosophy and science during the late 19th and early 20th centuries.