Oct 26, 1993 - West-Indisch Huis, Herenmarkt 97, Amsterdam
On October 26th, 1993, the John Adams Institute hosted author Gloria Naylor, who lectured on the facts and fiction of black women in America.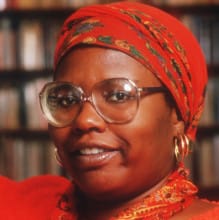 Since Gloria Naylor began publishing in the early 1980s, she has written five novels including The Women of Brewster Place (1982), Linden Hills (1985) and Bailey's Cafe (1992). The Women of Brewster Place, which she is most known for, explores the lives of both men and women in an urban setting and examines relationships, both in terms of friendship and romantic love, including homosexual relationships. Naylor has also taught as a professor at various universities, including George Washington University, New York University, Boston University, and Cornell University.
_________________________________________________________
Moderator: Cynthia R. Bunton

In collaboration with: Amsterdam Renaissance Hotel, Uitgeverij Anthos, United States Information Service the Hague, Norges Varemesse, Kwartaalblad 'Amerika'