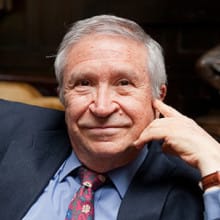 In the lecture series American Literature Today, the John Adams Institute will present an evening with the Mexican author and poet Homero Aridjis.
Homero Aridjis (1940) studied philosophy and literature in Mexico City and was professor of Mexican Literature at the University of Indiana and at New York Univeristy. He is generally considered to be one of Mexico's most outstanding authors/poets. From 1972-1976 Aridjis was a cultural attache at the Mexican Embassy in The Hague and from 1977-1979 Mexican Embassador. DUring his stay in the Netherlands, Aridjis took part in Poetry International. At the moment he is actively involved in the environmental movement 'Grupo de los Cien' in Mexico, in which other prominent Latin American writers participate, such as Carlos Fuentes, Gabriel Garcia Marquez and Octavio Paz. In this capacity he held the Dr. J. Tans lecture at Maastricht University in November of 1991.
Aridjis' two books, 1492 and Juan Cabezon from Castilia both deal with the gruesome events and tragic fall of the Indian civilization. By carefully studying authentic sources and documents Aridjis wrote a gripping account of two conflicting cultures. 1492 was awarded the prestigious Premio Novedades y Diana.
In the light of 1992 being the International Columbus year and with regard to his former 'Dutch Connects' the John Adams Institute saw fit to invite this well-known Netherlands/Columbus expert.
Moderator: Bert Schierbeek
The evening was organized in cooperation with the University of Maastricht, Ramada Renaissance Hotel and Uitgeverij Meulenhoff.
_________________________________________________________