What makes up the immigrant experience? What are its contours, challenges and realities? And what gets lost, altered, or edited in the transition between leaving one's birth country and arriving in a new one? The John Adams Institute is thrilled to present an evening that weaves arts and academics, traverses national boundaries, and crosses oceans, in partnership with the Netherlands Institute for Advanced Studies, the Openbare Bibliotheek Amsterdam, Polish Culture NL, the Embassy of the Polish Republic and Buda Staging Performance Foundation.
This 'evening in two parts' will include a performance of Polish playwright Slawomir Mrozek's play The Emigrants, and we will be joined by Dr. Nancy Foner of CUNY for a discussion surrounding her latest book, One Quarter of the Nation: Immigration and the Transformation of America. There will be a short intermission between the performance and the discussion, and we will close the evening with a festive reception.
The evening will be opened by Shefali Razdan Duggal, United States Ambassador to the Netherlands. Ambassador Razdan Duggal will address the audience about immigration in the United States: at a young age, she moved from India to the U.S., and will provide us with personal context to the themes of the evening.
Part One: The Emigrants | Duration: 60 minutes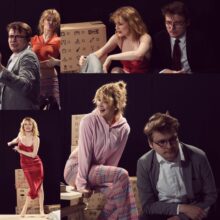 Decorated Polish playwright Slawomir Mrozek (1930-2013) was famous for his satirical political plays that centered major societal questions squarely in the lives of his characters. The play gives voice to migration and the political problems associated with it in multiple registers. How to deal with migration personally, politically, and socially, and how does migration both strengthen and test the bonds of community? The play is directed by Hanna Grosfeld-Buda and will be performed by actors from Warsaw. The performance will be in Polish with live English subtitles.
Part Two: Lessons from the melting pot | Duration: 60 minutes
The United States is known around the world as a cultural melting pot: a nation of immigrants from across the globe pursuing, creating and reinterpreting the American Dream. Today, nearly 86 million people in the U.S. are either immigrants or descendants thereof: immigration and immigrants have played a central role in transforming American society through rejuvenation, strengthening old industries and spurring the growth of new ones.
From the music that we hear to the food we eat, immigration has had a profound impact on American life, and is nevertheless a hotly debated topic. After presenting the findings of her book, Dr. Foner will be joined by fellow political scientist Dr. Els de Graauw for an in-depth conversation.
Graphic design (top picture) by Basia Knobloch.