When Kristen Roupenian's short story 'Cat Person' came out in The New Yorker magazine and online at the end of 2017, it immediately went wildly viral: it became the second-most-emailed page on the New Yorker's website in that entire year. The story confused readers who mistook it for reportage rather than fiction, given that it appeared at the height of the #metoo movement, thereby galvanizing conversations about desires that its readers usually regard as private.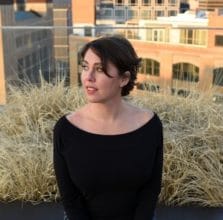 Cat Person is about a 20-year-old college girl who goes on a date with an older man, then realizes she does not want to have sex with him at the exact moment that it becomes socially impossible to back out of the encounter gracefully; she goes on to have some terrible, regrettable sex with him as a result.
This is one of the stories in the collection "You Know You Want This" (translated for Nieuw-Amsterdam Publishers into Dutch as Je weet dat je dit wil. The publishing rights of this debut were sold in a bidding war for more than $1 million and will be turned into a tv series by HBO. It's a collection of short stories that explore the complex—and often darkly funny—connections between gender, sex, and power across genres. It brilliantly drills down into the ways in which women are horrifying as much as it captures the horrors that are done to them.
Join us with Kristen to celebrate the launch of her first short story collection.
Moderator Els Quaegebeur delivered the following introduction to Kristen Roupenian.