The name of the Sackler family adorns the walls of many storied institutions – Harvard, the Metropolitan Museum of Art, Oxford, the Louvre. They are one of the richest families in the world, known for their lavish donations to the arts and sciences. The source of the family fortune was vague, however, until it emerged that the Sacklers were responsible for making and marketing OxyContin, a blockbuster painkiller that was the catalyst for the opioid crisis.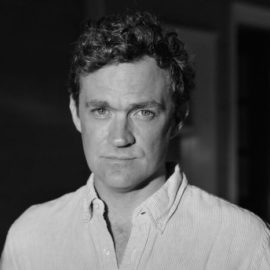 In the past twenty years, opioids were responsible for the overdose deaths of nearly 500,000 Americans. Two generations later, that good name is being removed from museums and educational institutions.
In Empire of Pain (translated into Dutch as Het pijnstillerimperium, published by Nieuw Amsterdam), Patrick Radden Keefe – who is also a staff writer at The New Yorker and host of the award-winning podcast Wind of Change – paints a grand, devastating portrait of three generations of the Sackler family. It's is a chilling and mesmerizing read, filled with firsthand interviews and takeaways from confidential and original documents.
Keefe will detail his investigation of the Sacklers, whose fortune was built by Valium and whose reputation was destroyed by OxyContin.
(portrait picture © Philip Montgomery)
"Keefe is the rare writer who can pull together countless legal and archival documents and interview transcripts to create a nonfiction work that reads like a thriller," according to The Atlantic. President Obama put the book on his 2021 summer reading list.