On May 22, 1991, American author Mary Gordon visited the John Adams Institute as part of her European tour as American Speaker. She spoke about her then recently translated novel The Other Side (translated in Dutch as De Overkant). The protagonist in The Other Side is ninety-year-old Ellen McNamara, who grimly faces death while in the last phase of her life. With a sharp eye for human shortcomings, Gordon studies her subjects in a nerve-wracking clinical fashion; during their family reunion.
Writer Maarten 't Hart moderated the evening and interviewed Gordon.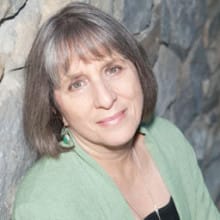 Mary Gordon is currently the McIntosh Professor of English at Barnard College. She is best known for her novels and memoirs. Her works include Reading Jesus, Circling My Mother: A Memoir and The Other Side. Read an extensive biography here.