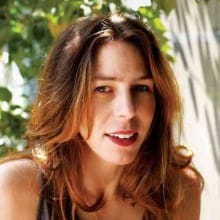 Rachel Kushner has risen rapidly through the ranks of American literature. Her widely praised debut novel, Telex from Cuba, was already a finalist for the National Book Award in 2008, and she did it again with her new novel The Flamethrowers.
In beautiful prose, Kushner weaves two stories together — one begins in Italy in 1916, the other in Nevada and New York in the '70s. The protagonist is the naive young woman 'Reno' – so-called because she was born there – who moves to New York City to follow her dreams.
The result is a wild and a captivating ride through the downtown New York art scene and the revolutionary Marxist Italy of the 1970s. "Kushner fearlessly tackles the bigger questions in this generous, ambitious, and original novel," according to the New York Times Book Review.