Yes, capitalism is the greatest source of prosperity the world has ever seen. But many also blame it for the massive problems that plague the modern world.
In Reimagining Capitalism in a World on Fire, Harvard Business School Professor Rebecca Henderson argues that only a new form of capitalism can drive the innovation we need to build a just and sustainable world, and can play a leading role in solving the three great problems of our time: climate change, inequality, and threats to democracy. But first we have to get rid of the dangerously mistaken idea that the only purpose of a business is to make money.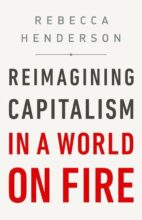 "Business can change the world," says Henderson. How? At a special online event organized by the John Adams Institute and the Amsterdam Business School, Rebecca Henderson will talk about this with Rick van der Ploeg, Professor of economics at Oxford University and the Universiteit van Amsterdam, and with Julia Szubert, Masters student of international business at ABS and an Honours student of sustainability.
This is the first event in the Sustainability Speaker Series of the Amsterdam Business School.