Mar 11, 1998 - Atrium Stadhuis Den Haag, Spui 70, Den Haag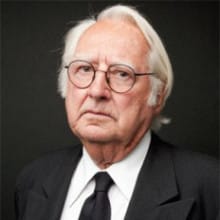 The internationally renowned American architect and member of the 'New York Five', Richard Meier, spoke at the John Adams Institute in a building designed by the architect himself, The Hague City Hall. The evening formed part of the festive program celebrating the 750th anniversary of The Hague and was opened by Wim Deetman. The Hague City Hall is a large glass-roofed concourse serving both as registry hall and public meeting place. It is a prime example of a style that is unmistakably Meier's. Richard Meier commissioned for prominent public projects, including the Barcelona Museum of Contemporary Art and the Museum for the Decorative Arts in Frankfurt as well as the Getty Center in Los Angeles.
_________________________________________________________
Links:
Richard Meier's website
Moderator: Carel Weeber

In collaboration with: Renaissance Hotel Amsterdam, NOG Verzekeringen, Stichting 750 Jaar Den Haag, Nilsson & Lamm, United States Information Service the Hague, Koninklijke KNP BT, Claire Taylor - Copywriter, Borrie & Co R.A.