Ruby Wax might win the title of 'Hardest Working Woman in Show Business'. She has been an interviewer, comedian, actress, script editor, author, teacher. And she's wildly successful in everything she does. Her TV series Ruby Wax Goes Dutch was a hit; her interviews with celebrities have achieved cult status.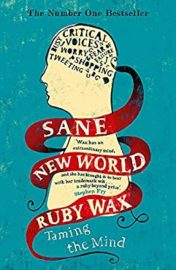 Her new book, 'Sane New World', based on personal experience, achieves the rare feat of addressing mental illness while being readable and funny at the same time.
The world is moving too fast for the human mind to keep up, Wax says. The solution is ease up on ourselves: "We'd never dream of treating our pets the way we treat ourselves," she writes.