Nov 23, 2004 - Singelkerk, Singel 452, Amsterdam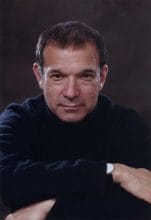 The John Adams Institute hosted writer Stephen Greenblatt, who spoke on his biography on William Shakespeare, titled Will in the World: How Shakespeare became Shakespeare. For his biography, Greenblatt did extensive research on Shakespeare's life concerning religion, London, ghosts, rural life, alcoholism, his marriage and his fellow writers. The Elizabethan era seems to come to life, and the reader is transported to a different time. Greenblatt manages to write a biography about a man who left no personal letters or memoirs, only 37 plays and 154 sonnets.
The evening was moderated by David Rijsen, and included Q&A with the audience.
Moderator: David Rijsen

In collaboration with: De Bezige Bij Publishing House, AEGON, American Embassy The Hague, Ministerie van OC&W, Van den Berch van Heemstede Fonds, SNS Reaal Fonds, The Netherland-America Foundation