After his first visit two decades ago, one of the paragons of American literature, T. Coraghessen Boyle, returned to the John Adams Institute. His latest novel, The Harder They Come, recounts the miseries of a troubled father and son in a resonant meditation on the American frontier ethos.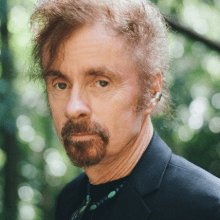 Exploring the dark side of the American dream, the novel recapitulates themes that have preoccupied Boyle throughout his long career: his fascination with characters who pit themselves against their neighbors, the system and nature; freedom as both a founding principle of America — and an invitation to rebellion and self-indulgence; and the dark fallout of ideological certainty and obsession.
The Harder They Come has been praised by critics as a Great American Novel: a drama taking place at the core of the American soul. "From the novel's thrilling set piece of a start […] to its pensive conclusion," The New York Times wrote, "The Harder They Come is a masterly — and arresting — piece of storytelling, arguably Mr. Boyle's most powerful, kinetic novel yet.