The author of one of the most galvanizing debut novels of 2018 took the John Adams stage to discuss his story about twelve characters who converge and collide on one fateful day. Tommy Orange's groundbreaking novel There There – translated for Meulenhoff into Dutch as Er Is Geen Daar Daar – was chosen as one of the New York Times 10 Best Books of 2018.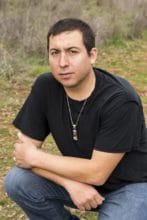 In There There, all of the characters in the novel are Urban Indians living in Oakland, who are preparing to go to the Big Oakland Powwow. As we learn the reasons why each person is attending—some of whom are generous, some joyful, others fearful or even violent—momentum builds toward a shocking yet inevitable climax that changes everything.
The core topic of this multigenerational novel is identity: Orange tells stories about the Urban Indian experience, in a world in which many people associate Urban Indians with stereotypes. In his novel There There, Tommy Orange grapples with a complex and painful history, with an inheritance of beauty and profound spirituality, and with a plague of addiction, abuse, and suicide. "Masterful. White-hot. A devastating debut novel," according to Ron Charles of The Washington Post.
Watch this clip to learn more about Tommy Orange. Moderator Ellen de Bruin delivered the following introduction.