Sep 13, 2000 - West-Indisch Huis, Herenmarkt 97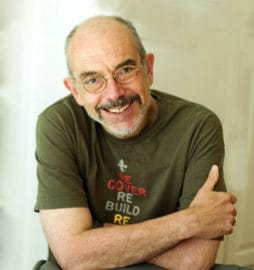 The John Adams Institute presented an evening with American author Wally Lamb. In his novel She's Come Undone, the main character, Dolores Price experiences a great loss of innocence during her childhood and adolescence due to many unfortunate occurrences, shaping her into a highly unusual and depressed person who eventually has to undergo major transformations with the help of psychotherapy, and by accepting the hardships of life.
The novel was widely read after being chosen as an Oprah's Book Club selection in December 1996. Lamb's breakthrough novel was was a finalist for the Los Angeles Times's Best First Novel Award and one of People magazine's Top Ten Books of the Year. Lamb's other novels include I Know This Much Is True and The Hour I First Believed.
Moderator: Nelleke Noordervliet

In collaboration with: The United States Embassy to the Netherlands - The Hague, The Netherland-America Foundation, Maurits van Kattendijke Stichting, AEGON, Delta Airlines, Publishing House De Boekerij, Van Ditmar Bookimport, Heuvelman Sound & Vision, Claire Taylor, Borrie & Co R.A.