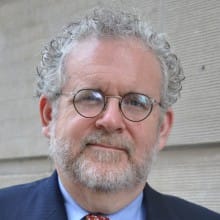 The John Adams Institute welcomed Walter Russell Mead, senior fellow in U.S. Foreign Policy at the Council on Foreign Relations, to talk about his latest book: Power, Terror, Peace, and War: America's Grand Strategy in a World at Risk. Maarten Huygen, commentator for NRC Handelsblad, interviewed Mead and moderated the discussion.
Power, Terror, Peace, and War is a timely analysis of American foreign policy, examining both the country's historical approach and the current policy of the Bush administration. Mead posits himself as advocate for 'The American Project,' a plan he defines as 'a grand strategic vision of what it is that the United States seeks to build in the world.' The American project, according to Mead, strikes an uneasy balance between equality among nations and an American empire.
Evaluating the controversial foreign policy of the Bush administration, Mead proposes two major challenges to today's policy makers. 'Grand terror,' or terrorist attacks simulating wartime destruction, stands as the most difficult and pressing challenge. Nearly as disruptive, an evolving form of 'millennial capitalism' has put much of the world in a tailspin as it replaces the former style of capitalism with an individualistic, more dynamic form, and a form which has yet to put forth it's own replacement ideals.
Applying lessons from the Cold War, Mead boldly proposes new approaches to war, including a plan for the Israeli-Palestinian dispute. Labeling this conflict the 'root cause' of the Arab world's frustration with America, Mead calls for an initiative to economically support displaced Palestinian refugees as a means towards a practicable peace agreement.
Walter Russell Mead is one of the leading interpreters of the history of U.S. foreign policy and America's role in the world. Winner of the Lionel Gelber Award for best book on international affairs in English for Special Providence, Mead is also a frequent contributing editor and lecturer on American foreign policy. He lives in New York City. Publishing house Het Spectrum simultaneously published a Dutch translation of the book: Amerika en de wereld: De Amerikaanse buitenlandse politiek in een wereld vol bedreigingen.
_________________________________________________________
Links: