Jan 29, 1997 - Joods Historisch Museum, Nieuwe Amstelstraat 1, Amsterdam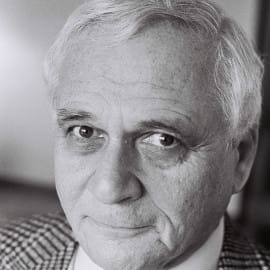 The John Adams Institute hosted an evening with the British-born American author, Alan Isler. Appearing in the lecture series American Literature Today, Isler introduced his novel Kraven Images – a pun on the biblical "graven images", or idols – which had been recently published in Dutch as De Beelden van Nicholas Kraven. Born in London, Alan Isler (1934) emigrated to the United States at the age of eighteen. He taught English literature at New York Queen's College from 1967 to 1995 and then returned to London. His first novel, The Prince of West-End Avenue (1994), was acclaimed on both sides of the Atlantic. In America it won the National Jewish Book Award and was one of the first fiction nominees for the 1994 National Book Critics Circle Award. The novel describes Otto Korner's attempts to organize a performance of Shakespeare's Hamlet in an orthodox Jewish home for the elderly. Geoffrey Elborm of The Guardian praised The Prince as "masterly, imaginative and provocotively disturbing in its effortless transitions between the comic and the tragic." In his second novel, Kraven Images, Isler tells the tragicomical story of Prof. Nicholas Kraven, a victim of an incentive to bed his female students. Adrift in the New World without an identity, he comes preoccupied with his "Kraven demons" – his family's doom-laden Old World Jewishness – and seeks to discover the difference between superficial images and cultures with depth. Both of Isler's novels were published in Dutch by Uitgeverij Balans.
Isler passed away in March 2010.
_________________________________________________________
Moderator: Carl Friedman

In collaboration with: Amsterdam Renaissance Hotel, NOG Verzekeringen, Uitgeverij Balans, Penguin Books Netherlands, United States Information Service the Hague, IBM Nederland B.V., NV Koninklijke KNP BT, Claire Taylor - Copywriter, Borrie & Co-Registeraccountants